Adams does the Modus Icons of Darts double denying Russia's Koltsov in straight shootout
Martin Adams claimed his second successive Modus Icons of Darts Live League Phase Three title on Wednesday afternoon after denying Boris Koltsov in a straight shootout.
Adams stormed to a triumphant campaign on Monday with a clean sweep of victories, before winning four of his five matches to seal a second success on Wednesday.
'Wolfie' stole the show on Wednesday of last week as he completed his first ever broadcast nine-dart finish on the eve of his 64th birthday, and opened his bid a week later with a 5-3 defeat at the hands of Diogo Portela.
Brazilian Portela reeled in two 170 checkouts and averaged an impressive 97.45 as he overturned a 3-0 deficit, before having the title snatched from his clutches by Adams later in the day.
Adams immediately got off the mark at second attempt as he reeled off five consecutive legs from 2-0 behind to see off Spain's Jose Justicia, averaging a remarkable 104.97 and pinning two 121 checkouts.
Whilst taking out an additional two ton-plus checkouts, Adams subsequently thrashed a below-par Jarred Cole, before averaging over the 95 mark in a 5-0 whitewash win over former World Championship finalist Mark Dudbridge.
The three-time world champion's emphatic victory over Bristol's Dudbridge meant that he and Russian number one Koltsov would contest a straight shootout in Wednesday's climax.
The opening six legs of a closely contested affair went the way of throw, with Moscow-based Koltsov pinning an incredible 104 checkout to level up proceedings whilst Adams was waiting patiently on tops.
His fourth maximum and a brace of 13-darters helped Adams secure a superb win over the former PDC Challenge Tour event winner with a 103.17 average and five out of seven on the outer ring.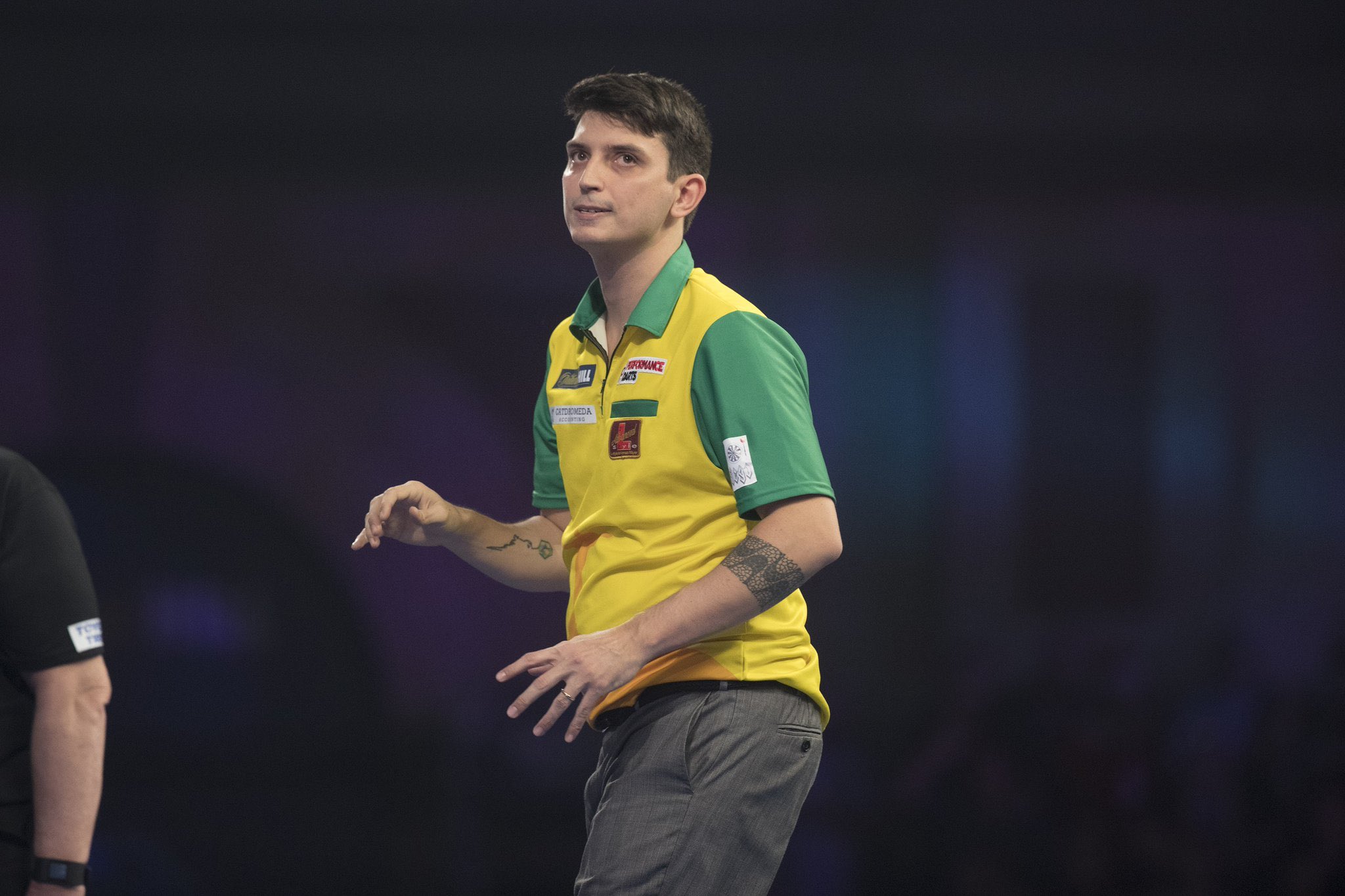 Diogo Portela during the World Championship at Alexandra Palace (Photography: Lawrence Lustig/PDC)
Elsewhere, despite placing himself in a healthy position as his campaign came to close earlier than his title rivals, another former winner on the Challenge Tour in Portela marginally lost out on his maiden Modus Icons of Darts triumph.
Missed match darts in a below-per performance against fellow World Championship qualifier Justicia costed him his first title, though, the Brazilian's confidence will be bubbling heading into his finale on Friday.
Phase Three of the Modus Icons of Darts Live League resumes on Thursday morning as Tuesday's winner Ritchie Edhouse and world champions Scott Mitchell and Mark Webster headline the field.
MODUS ICONS OF DARTS LIVE LEAGUE PHASE THREE
---
Week Two – Day Three
Wednesday June 10
Jose Justicia 5-4 Diogo Portela
Jarred Cole 5-3 Jose Justicia
Diogo Portela 5-3 Jarred Cole
Mark Dudbridge 3-5 Jose Justicia
Martin Adams 3-5 Diogo Portela
Boris Koltsov 5-2 Jarred Cole
Jose Justicia 2-5 Martin Adams
Diogo Portela 5-4 Boris Koltsov
Jarred Cole 2-5 Mark Dudbridge
Boris Koltsov 5-3 Jose Justicia
Mark Dudbridge 3-5 Diogo Portela
Martin Adams 5-1 Jarred Cole
Mark Dudbridge 3-5 Boris Koltsov
Martin Adams 5-0 Mark Dudbridge
Boris Koltsov 3-5 Martin Adams
Confirmation of today's final league table ✅🎯 @reddragondarts @low6bet #IconsofDarts

2/2 for @wolfiedarts so far this week 👏🏻 pic.twitter.com/CKfGMCMdOT

— MODUSDarts.tv (@ModusDarts180) June 10, 2020
Week Two – Day Four
Thursday June 11
Mike Warburton v Keelan Kay
Ritchie Edhouse v Mike Warburton
Keelan Kay v Ritchie Edhouse
Scott Mitchell v Mike Warburton
Mark Webster v Keelan Kay
Adam Huckvale v Ritchie Edhouse
Mike Warburton v Mark Webster
Keelan Kay v Adam Huckvale
Ritchie Edhouse v Scott Mitchell
Adam Huckvale v Mike Warburton
Scott Mitchell v Keelan Kay
Mark Webster v Ritchie Edhouse
Scott Mitchell v Adam Huckvale
Mark Webster v Scott Mitchell
Adam Huckvale v Mark Webster
---
(Featured Image: Chris Sargeant/Tip Top Pics)
About The Author
You might be interested in