Astounding Adams wins fourth Modus Icons of Darts title in a row with five straight victories
As a different week in Phase Three of the Modus Icons of Darts Live League commenced, usual service was resumed for Martin Adams as he claimed a fourth successive title.
Adams, who celebrated his 64th birthday little more than a week ago, has dominated the live-streamed initiative in recent weeks, and conjured up a fourth consecutive success on Monday afternoon.
After securing an irresistible hat-trick of crowns last week, Adams commenced Week Three with a 98.15 average and 50 per cent on the doubles in an emphatic 5-2 victory over Scott Marsh – who claimed the first Phase Three title two weeks ago.
The three-time world champion then defied a valiant effort from global sensation Fallon Sherrock, averaging just spare of the 100 mark once again and continuing his unassailable form from his Lincolnshire residence.
Adams' expertise in the doubling department remained intact for his third match as he converted five of his seven attempts in a 5-0 whitewash win over former Romanian Open champion Dave Parletti – who was making his Modus Icons of Darts debut.
Approaching the final two encounters of the afternoon, both 19-year-old Jarred Cole and Russian number one Boris Koltsov were vying to scupper the veteran's winning streak, though, neither were triumphant as the eight-time major champion crossed the finishing line.
Emerging youngster Cole held a lionhearted performance throughout, but fell short in the deciding leg, managing just a solitary big treble and allowing Adams to move on the cusp of top spot once again.
The pre-lockdown Isle of Man Open finalist then overturned a 3-2 deficit against Moscow-based Koltsov to wrap up the title, with two maximums and an average marginally in excess of the 90 mark.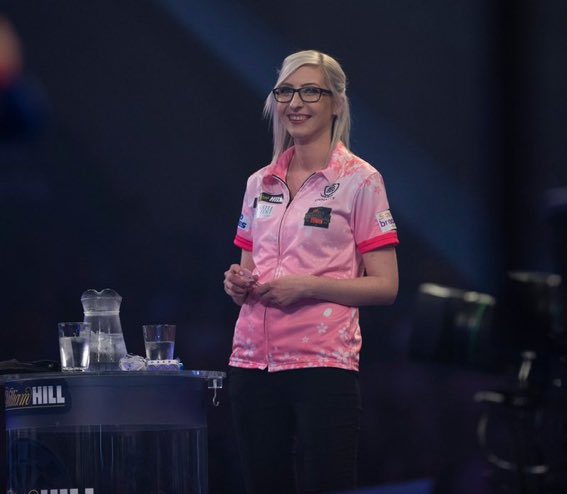 Fallon Sherrock during her history-making World Championship in December (Photography: Lawrence Lustig/PDC)
Elsewhere, after starting strongly with back-to-back victories at the frontend of the day, former World Trophy champion Sherrock finished fourth in the overall standings, with only debutant Parletti and rock bottom placed Marsh situated below her in the table.
Phase Three of the Modus Icons of Darts Live League resumes on Tuesday morning as major champions Scott Mitchell, Mark Webster and Paul Nicholson headline the field.
Andy Jenkins returns to the fray after his week-long break, while two-time PDC Challenge Tour event winner Stephen Burton and Bristol's John Brown make their debuts.
MODUS ICONS OF DARTS LIVE LEAGUE PHASE THREE
---
Week Three – Day One
Monday June 15
Fallon Sherrock 5-4 Scott Marsh
Dave Parletti 4-5 Fallon Sherrock
Scott Marsh 4-5 Dave Parletti
Jarred Cole 5-4 Fallon Sherrock
Martin Adams 5-2 Scott Marsh
Boris Koltsov 5-2 Dave Parletti
Fallon Sherrock 2-5 Martin Adams
Scott Marsh 1-5 Boris Koltsov
Dave Parletti 2-5 Jarred Cole
Boris Koltsov 5-2 Fallon Sherrock
Jarred Cole 5-1 Scott Marsh
Martin Adams 5-0 Dave Parletti
Jarred Cole 5-4 Boris Koltsov
Martin Adams 5-4 Jarred Cole
Boris Koltsov 3-5 Martin Adams
Confirmation of today's final league table 📈🎯@reddragondarts @low6bet #IconsofDarts

🥇 @wolfiedarts A perfect 5️⃣ from 5️⃣ 👏🏻👏🏻

Action returns live tomorrow morning at 10.30.
All free on https://t.co/G0vmFFFjm0 & https://t.co/9BIO8eoiA4 pic.twitter.com/6cl2c9c40b

— MODUSDarts.tv (@ModusDarts180) June 15, 2020
Week Three – Day Two
Tuesday June 16
Stephen Burton v John Brown
Andy Jenkins v Stephen Burton
John Brown v Andy Jenkins
Paul Nicholson v Stephen Burton
Scott Mitchell v John Brown
Mark Webster v Andy Jenkins
Stephen Burton v Scott Mitchell
John Brown v Mark Webster
Andy Jenkins v Paul Nicholson
Mark Webster v Stephen Burton
Paul Nicholson v John Brown
Scott Mitchell v Andy Jenkins
Paul Nicholson v Mark Webster
Scott Mitchell v Paul Nicholson
Mark Webster v Scott Mitchell
---
(Featured Image: Chris Sargeant/Tip Top Pics)
About The Author
You might be interested in