Barry does Development Tour double as Rydz also seals success in Barnsley
Keane Barry and Callan Rydz doubled their title tallies as the 2020 PDC Development Tour season reached its climax on Sunday at the Barnsley Metrodome.
Barry, who claimed his maiden Development Tour accolade on Saturday afternoon, did the double and claimed both a World Championship spot and a coveted two-year PDC tour card in the process.
The reigning junior world champion breezed into the quarter-finals with a series of solid showings, dropping a mere two legs in emphatic victories over Rory Jolly, Frederick Still, Joshua Lloyd and Justin Smith.
Barry then recorded an impressive 99.4 average in seeing off Harry Ward and whitewashed Event Six winner Damian Mol, before defeating Ryan Meikle in the final for a second successive tournament.
Both Barry and Meikle pinned four maximums apiece and averaged in excess of the 100 mark, but it was the Irish teenager's marginally superior finishing which proved pivotal in a closely contested final.
Meikle reached his fourth final of the year en route to topping the Development Tour Order of Merit and therefore clinching his second World Championship appearance.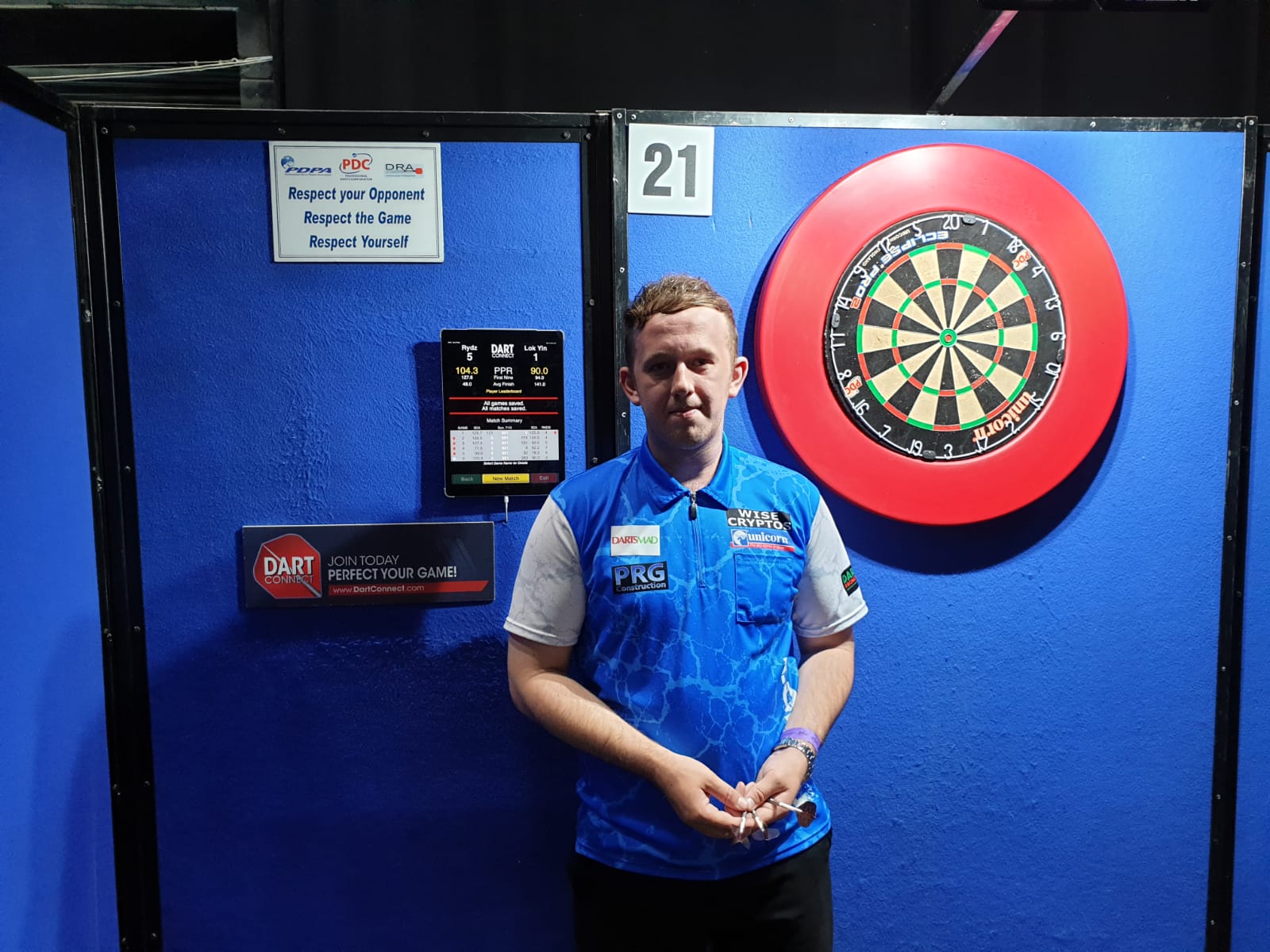 Rydz after winning his second Development Tour title (Photography: PDC)
Afterwards, Callan Rydz claimed his second title in the final Development Tour event of the year, clocking three ton-plus averages in a remarkable string of performances.
Rydz comfortably overcame George Cressey, Eirwyn Evans and Daniel Castle, before averaging 103.1 in defeating Dutch tour card holder Niels Zonneveld.
The Bedlington-based thrower then brushed aside Jack Main, prior to surviving two match darts in a deciding leg quarter-final victory over 18-year-old Barry.
From there, a relentless Rydz raced to the title with back-to-back ton-plus averages in denying both Dutchman Owen Roelofs and Hong Kong's Lok Yin Lee.
A valiant Lee became the first Asian player to reach a Development Tour final as he defeated the likes of eventual table-topper Meikle, Berry van Peer and Joe Davis.
Van Peer's resurgence resumed as the Dutchman reached his fourth semi-final in succession on his way to joining Barry in securing a coveted two-year tour card.
The Development Tour now concludes for this year, with the tenth staging of the prestigious World Youth Championship taking place on Monday at the Barnsley Metrodome.
PDC DEVELOPMENT TOUR
---
Sunday September 27
Barnsley Metrodome
Event Nine
Quarter-Finals
Berry van Peer 5-2 Mikey Rees
Ryan Meikle 5-4 Geert Nentjes
Damian Mol 5-3 Lewis Pride
Keane Barry 5-2 Harry Ward
Semi-Finals
Ryan Meikle 5-4 Berry van Peer
Keane Barry 5-0 Damian Mol
Final
Keane Barry 5-4 Ryan Meikle
Click here for full results from Event Nine via the DartConnect system
Event Ten
Quarter-Finals
Callan Rydz 5-4 Keane Barry
Owen Roelofs 5-2 Thomas Lovely
Berry van Peer 5-2 Danny van Trijp
Lok Yin Lee 5-2 Joe Davis
Semi-Finals
Callan Rydz 5-3 Owen Roelofs
Lok Yin Lee 5-2 Berry van Peer
Final
Callan Rydz 5-1 Lok Yin Lee
Click here for full results from Event Ten via the DartConnect system
---
(Featured Image: Chris Sargeant/Tip Top Pics)
About The Author
You might be interested in