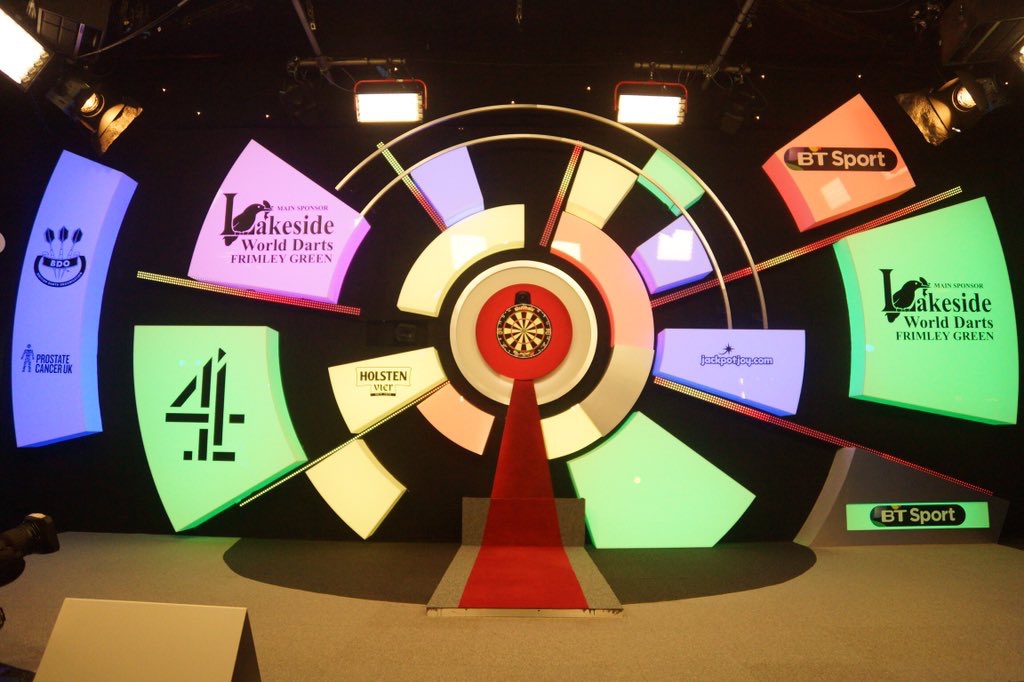 BDO World Championship Preview
BDO World Championship: Preview
---
The biggest tournament on the BDO circuit is just days away as 40 players compete for a chance to be crowned World Champion. Pengiran Mohamed will make history at this years Lakeside as he will become the first ever player to play at Lakeside from the country of Brunei. Mohamed will face former World Darts Trophy winner Gary Robson in the preliminary round on Saturday afternoon. The winner will go onto face the defending champion at the Lakeside and a quarter finalist in the Grand Slam of Darts in November Glen Durrant. 'Duzza' claimed his first World Championship title this time last year as he beat Holland's Danny Noppert in the final.
Number two seed and Winmau World Masters finalist Mark McGeeney will face a tough test in the opening match of the tournament as he faces three-time World Champion 'Wolfie' Martin Adams while another round one belter will take place on Sunday afternoon as Ross Montgomery faces former Grand Slam of Darts winner Scott Waites. Montgomery thrashed the former World Champion 4-0 at the Lakeside three years ago 4-0 but the head to head is currently level at 4-4.
Tipton-based ace Jamie Hughes has been tipped by many to lift the biggest title on the BDO circuit for a first time. The current Isle of Man Classic winner will open his campaign against either US Darts Masters qualifier Dave Cameron or Michael Unterbuchner who clash in a prelim match on Monday afternoon.
Scott Mitchell, a former winner on the Lakeside stage, will take on Lithuania's Darius Labanauskas in another eye-opening first round encounter. 'Scotty Dog' met 'Lucky D' just last month at the Finder Darts Masters in The Netherlands. Mitchell came out a 3-0 winner in that tie.
An inform Jim Williams will face a tough round one opponent as he will face the winner of a preliminary round match between Jefferey Sparidaans and a former PDC European Tour quarter finalist Dennis Nilsson. Williams reached the final at the Finder Darts Masters last month loosing out to Danny Noppert in the final. Sweden's Dennis Nilsson failed to get through his preliminary round match at the Lakeside last year but had an outstanding run in a PDC European Tour event a few months ago as he beat the likes of Dave Chisnall and Daryl Gurney.
Umit Uygunsozlu will become the first Turkish darter to play at a World Championship in either code as he faces Welsh international Chris Harris for a chance to play in the first round proper against another Welshman in Dean Reynolds.
2017 Lakeside finalist and Finder Darts Masters winner Danny Noppert will have to play in a preliminary round match against American Joe Chaney for a chance to play in the first round against Ritchie Edwards, who steps in James Hurrell due to illness. Noppert has hardly played at all this year on the BDO circuit but completed in The Netherlands last month and took the title. Unfortunately Noppert's mum passed away just days ago but I'm sure Noppert will be looking to do her proud at the Lakeside, Surrey.
Grand Slam of Darts qualifier and Scottish Open champion Cameron Menzies will be looking for a decent run at the Worlds after an agonising defeat in Wolverhampton to a dartitis struck Berry Van Peer. The Scotsman told 180Darts in an exclusive interview what his goals were for his first Lakeside event, "I hope to push the best and make a name for myself. Anyone can win at the Lakeside."
Kyle McKinstry, an up and coming star from Northern Ireland, lifted the Northern Ireland Open trophy a few months ago and will be looking to add the World Championship title to his ever growing darts CV. The Northern Irishman will face a former semi finalist at the Lakeside Richard Veenstra in a tasty round one matchup at the Lakeside.
In the Ladies Competition, reigning World Champion Lisa Ashton will face a tough encounter with Wales' Rhian Griffiths. Ashton completed on the Challenge Tour circuit last year and will be looking to win the BDO World Professional Darts Championship for a fourth time. The Bolton-based star took home the £12,000 in prize money last year as she whitewashed Australian Corrine Hammond 3-0. Hammond will face a tough test in round one as she faces former World Championship finlaist Fallon Sherrock.
Deta Hedman is still searching for her first Lakeside victory despite being a winner of many tournaments worldwide. The Jamaican born postman will face Norwegian qualifier Rachna David in round one while an inform Aileen De Graaf, who saw off Deta in the Finder Darts Masters final just a month ago, will face England's Paula Jacklin.
10-time World Champion Trina Gulliver MBE will face Swedish ace Vicky Pruim. Trina will be looking to be crowned World Champion for an eleventh time. Another multiple time World Champion, Anastasia Dobromyslova will face Anca Zijlstra.
Lorraine Winstanley won her first Ladies major tournament back in September at the Winmau World Masters where she beat Corrine Hammond in the final. The wife of former PDC professional Dean Winstanley will be looking for her first World Championship title as she faces Tricia Wright in round one at the Lakeside.
The BDO World Darts Championship will commence on Saturday 6 January at 12.45pm and will be shown live on BT Sport and Channel 4. For any viewers outside of the UK the event will streamed live on the BDO's YouTube channel.
BDO World Darts Championship
First Round
Saturday 6th January
Afternoon Session (Commencing at 1pm)
Mark McGeeney v Martin Adams
Willem Mandigers v Nick Kenny
Lisa Ashton v Rhian Griffiths
Penigran Mohamed v Gary Robson (P)
Evening Session (Commencing at 7pm)
Justin Thompson v Chris Gilliland (P)
Deta Hedman v Rachna David
Danny Noppert v Joe Chaney (P)
Scott Mitchell v Darius Labanauskas
Sunday 7th December
Afternoon Session (Commencing at 1pm)
Glen Durrant v Penigran Mohamed / Gary Robson
Umit Uygunsozlu v Chris Harris (P)
Corrine Hammond v Fallon Sherrock
Ross Montgomery v Scott Waites
Evening Session (Commencing at 7pm)
Dennis Nilsson v Jeffrey Sparidaans (P)
Sharon Prins v Maria O'Brien
Chris Landman v Derk Telnekes (P)
Wesley Harms v Wayne Warren
Monday 8th January
Afternoon Session (Commencing at 1pm)
David Cameron v Michael Unterbuchner (P)
Craig Caldwell v Daniel Day (P)
Richie Edwards v Joe Chaney / Danny Noppert
Evening Session (Commencing at 7pm)
Andy Baetens v Scott Baker
Trina Gulliver MBE v Vicky Pruim
Dean Reynolds v Umit Uygunsozlu / Chris Harris
Darryl Fitton v Justin Thompson / Chris Gilliland
Tuesday 9th January
Afternoon Session (Commencing at 1pm)
Jim Williams v Dennis Nilsson / Jeffrey Sparidaans
Richard Veenstra v Kyle McKinstry
Aileen de Graaf v Paula Jacklin
Geert de Vos v Chris Landman / Derk Telnekes
Evening Session (Commencing at 7pm)
Martin Phillips v Craig Caldwell / Daniel Day
Anastasia Dobromyslova v Anca Zijlstra
Cameron Menzies v Conan Whitehead
Jamie Hughes v David Cameron / Michael Unterbuchner
(Format: Men's: Bo5 sets Ladies: Bo3 sets)
Photography courtesy of David Gill and the BDO.
About The Author
You might be interested in