Corey Cadby plots four-step comeback after nightmare year: 'They all say that I'm done – I'm nowhere near done'
Australian ace Corey Cadby has plotted a four-step comeback after returning to the public eye following a nightmare year by his own accord.
Cadby emerged onto the scene a few years ago as an assertive, young talent, but has since endured a number of personal problems – which have thwarted his promising career.
The 12-time DPA event winner down under made his television debut four years ago in the Sydney Darts Masters, before appearing in the subsequent World Championship after lifting the world youth title.
China's Sun Qiang was swept aside by the Australian as Cadby recorded the highest ever average for a preliminary round victory, prior to enduring a first round exit at the hands of Joe Cullen in a high-quality affair.
That bizarrely remains the Tasmania-born ace's only Alexandra Palace outing. Since then, Cadby has secured his PDC tour card for the first time at 2018 Qualifying School.
He eased to qualification on the opening day of proceedings, before subsequently scooping his maiden PDC ranking title and reaching the prestigious UK Open final during his first month on the circuit.
Personal complications and inundated visa problems began to creep in as he attempted to relocate to the other side of the world, and he proceeded to miss the next year of competitive action.
Cadby returned to both the ProTour and Development Tour in April of last year, though, his stay was short-lived. The inaugural Czech Darts Open provided Cadby's last ranking endeavour, before his darkest hour came months later.
103 TO WIN IT! What a checkout from Corey Cadby to beat Phil Taylor.

He will now face Kyle Anderson for the title! #AucklandDarts pic.twitter.com/x1w7fK6DHb

— NZ Darts Masters (@NZDartsMasters) August 13, 2017
His relationship with his management team began to deteriorate and his performance level was far from where it had been previously.
'The King' suffered successive first round exits in both the Brisbane and Melbourne legs of the World Series of Darts, before refusing to fly across the Tasman Sea to New Zealand, leaving his manager with no decision but to withdraw him.
"It was the worst World Series I've ever had," Cadby confirmed in an exceptional interview with Phill Barrs. "I can't even bring myself to watch my games. I know for a fact it wasn't me playing – it was the other Corey. I'm so disappointed in myself but hopefully I can build the bridges back.
"In Melbourne, that was me at rock-bottom for sure. I thought everyone was turning against me, I don't know why because I've always played darts to make money for the family.
"In saying that, I didn't have my wife and kids on my side either. They were always there but I pushed them right to the side and it felt like they weren't there.
"It is a disgrace, especially when I've been asked to go and represent the PDC. I did let a lot of people down at the end and I'm totally ashamed of that.
"Each day was so hard and that obviously led to alcohol. I was never one bit happy, I was actually depressed every day. I didn't want to wake up and to be honest, there was thoughts of suicide on my mind."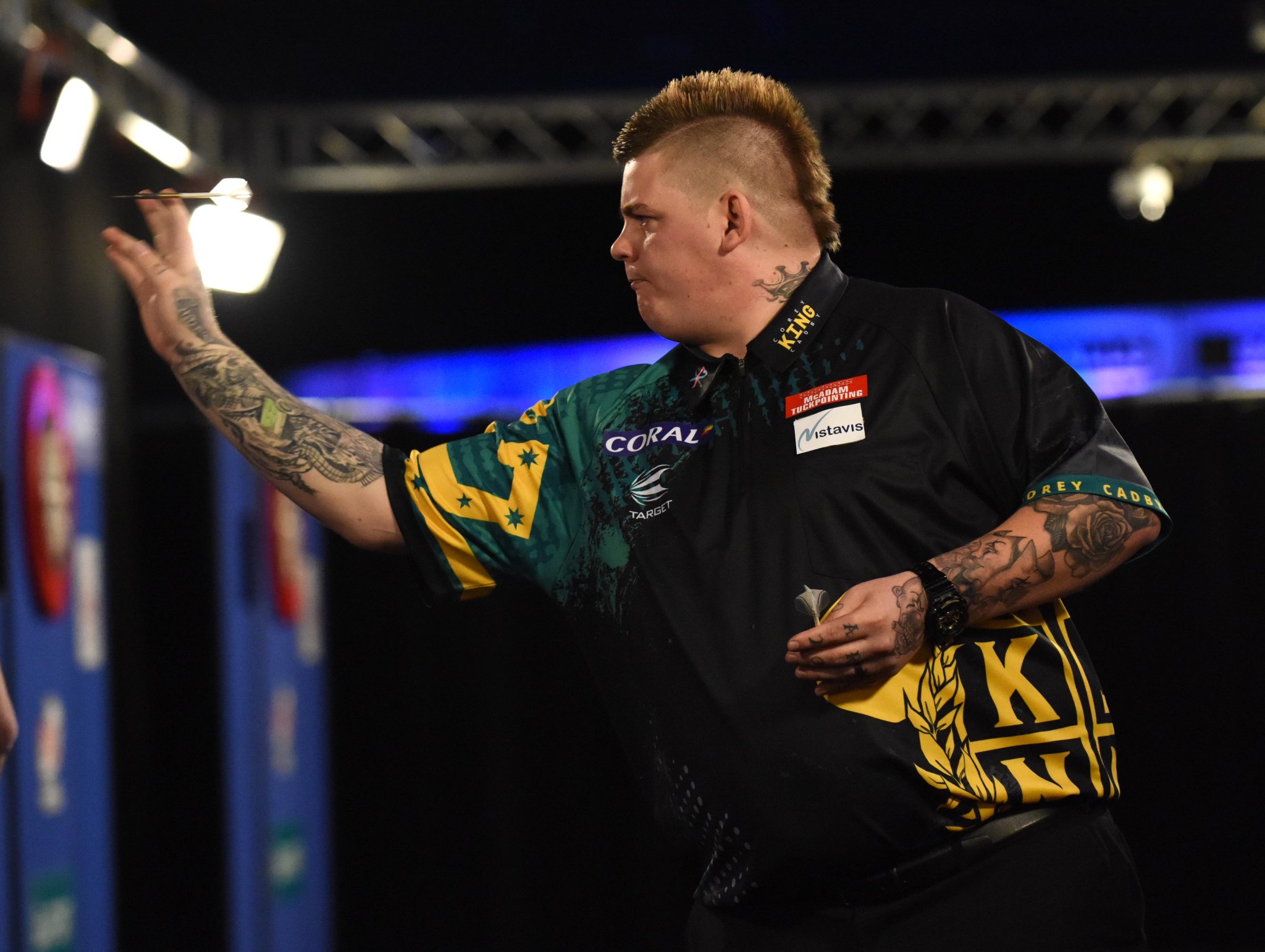 A few months later, Cadby surrendered his PDC tour card. The Australian says his decision was a tough one, but the correct one at the time, and that he owes those around him a sincere apology.
"With the circumstances I was in, the best decision was to give up my tour card," Cadby stated. "Giving that tour card up has made me more eager to go back and get this card.
"It's bitten me and made me realise what a tour card means – it's a new start so I've got to go back and earn it.
"I think I need to give the PDC an email because my behaviour was atrocious, especially not showing up to New Zealand – it made them look like idiots.
"Hopefully I can come back over and have a conversation with Matt Porter and the rest of the PDC crew to say how sorry I am and give them an explanation as to why it happened."
Now, Cadby hopes to return to the sport professionally from scratch. He will he utilising his roots in the DartPlayers Australia (DPA) circuit following the conclusion of the coronavirus crisis.
He added: "I've just got to stay with the good vibes, appreciate the family that's around me and go day by day.
"Having Mac and Garry is a big help and is a motivation to not let them down again. I'm surprised they didn't [distance themselves] and I don't know why they haven't, but I must be something special," Cadby laughed.
"I think I'm going to go back onto the DPA circuit to get some match practice and hopefully win the Oceanic Masters to get in the Worlds, then while I'm there, I'll stay for Q School.
"They all say that I'm done – I'm nowhere near done."
COREY CADBY'S FOUR-STEP COMEBACK
---
Return to the DPA Pro Tour in Australia
Tasmania-born Cadby will utilise his roots in returning to the DPA scene. 'The King' has pinned a nine-darter on that particular circuit in recent times, and throughout the past few years scooped 12 ranking titles.
The DPA Pro Tour now consists of events in blocks of three, with the Friday being a straight knockout tournament and Sunday being a set-play knockout, with a round-robin event sandwiched in between.
Reign victorious at the Oceanic Masters
The Oceanic Masters acts as one of the few routes to the Alexandra Palace stage in the Australasian region.
It is one of the most prestigious tournaments on the calendar down under, with Simon Whitlock, Kyle Anderson and Warren Parry having claimed the spoils since its 2002 inception.
Cadby has not achieved a great deal of success at the tournament, having endured a last 32 exit on his only appearance.
Make his Alexandra Palace return
Potentially winning the Oceanic Masters would create a tunnel directly to the doors of the famous Alexandra Palace venue.
Cadby has absurdly only appeared once in the sport's showpiece tournament, in which he ousted Sun Qiang in the preliminary round, averaging 102.46.
After featuring in match which saw his opponent hilariously trip over the oche, Cadby was sent packing by experienced professional Joe Cullen.
Head back to Qualifying School
In order to return to the professional scene, Cadby will beforehand have to come through a 500 strong field at the Robin Park Leisure Centre in Greater Manchester.
Global sensation Fallon Sherrock will be amongst those nervously walking through the gates of the Wigan sports centre, but can 'The King' return to superiority?
---
(Photography: Chris Dean/PDC)
About The Author
You might be interested in