Edhouse denies Sherrock in straight shootout to win fourth Icons of Darts Phase Three title
Ritchie Edhouse overcame Fallon Sherrock in a straight shootout on Wednesday afternoon to clinch his fourth Phase Three title in the innovative Modus Icons of Darts Live League.
Edhouse, who sealed success in three consecutive Icons of Darts Live League tournaments two weeks ago, added to his honours tally with three victories from four.
Following technical difficulties in the initial stages of the day – which saw three-time world champion Martin Adams play no further part in the action and his previous result voided – Edhouse emerged as a worthy victor.
The former PDC Challenge Tour event winner commenced his campaign with a defeat at the hands of Tuesday's winner David Evans, with the BDO World Championship quarter-finalist punishing double troubles from Edhouse.
Edhouse subsequently got off the mark at the second time of asking with a 5-3 victory over former PDC Development Tour event winner Jarred Cole, before producing a prolific performance in defeating Monday's winner Andy Jenkins.
Jenkins was in need of a win to keep his hopes of a third consecutive crown alive, though, an impressive 98.03 average and three maximums ensured Edhouse would remain in the running for top spot.
After overcoming both Evans and Jenkins earlier in the afternoon, Sherrock, who claimed her maiden Icons of Darts Live League success on Friday, would act as a barrier between Edhouse and the spoils.
Despite constructing a 2-0 advantage thanks to squandered attempts at double from her opponent, Sherrock would surrender her lead, with Edhouse reeling off five legs in succession to reign triumphant.
It was an eventual disappointing display from the global sensation as she registered a mere 75.64 average – her lowest of Phase Three thus far – with commentator Paul Nicholson suggesting that she was tiring due to her first dart landing below the treble bed.
As for Edhouse, it was a finishing masterclass from the Hastings-based ace – who converted five of his six attempts on the outer ring and an impressive 107 checkout to move on the brink of securing top spot.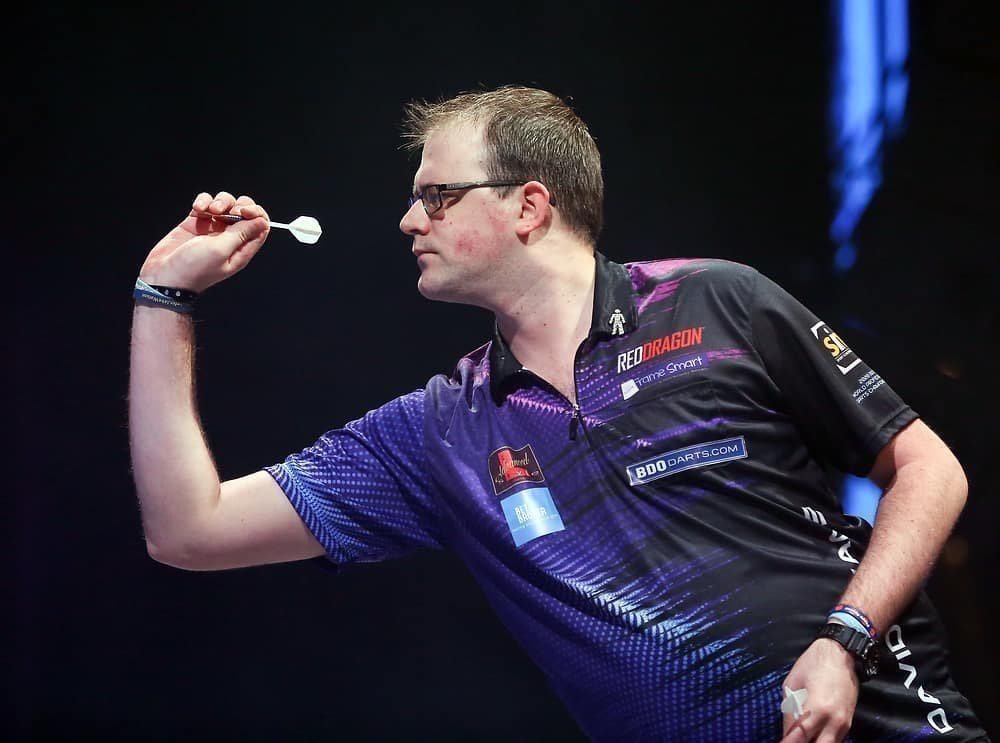 David Evans during January's BDO World Championship (Photography: Chris Sargeant/Tip Top Pics)
Elsewhere, after having his narrow victory over Adams voided due to later technical problems out of his control, Evans would finish second best on the day despite handing the eventual champion his only loss of the campaign.
Jenkins would pip Sherrock to third place thanks to his slightly superior leg difference, while Cole would be handed the wooden spoon after managing just one win from his five matches.
Phase Three of the Modus Icons of Darts Live League resumes on Thursday morning as BDO world youth champion Keane Barry makes his debut from his home in Duleek, Ireland.
MODUS ICONS OF DARTS LIVE LEAGUE PHASE THREE
---
Week Four – Day Three
Wednesday June 24
Jarred Cole 3-5 David Evans
Andy Jenkins 5-4 David Evans
Fallon Sherrock 3-5 Jarred Cole
David Evans 5-2 Ritchie Edhouse
Jarred Cole 4-5 Andy Jenkins
Fallon Sherrock 5-4 David Evans
Ritchie Edhouse 5-3 Jarred Cole
Andy Jenkins 4-5 Fallon Sherrock
Ritchie Edhouse 5-4 Andy Jenkins
Fallon Sherrock 2-5 Ritchie Edhouse
League Standings
1. Ritchie Edhouse P4 W3 L1 DIFF +4 PTS 6
2. David Evans P4 W2 L2 DIFF +3 PTS 4
3. Andy Jenkins P4 W2 L2 DIFF +0 PTS 4
4. Fallon Sherrock P4 W2 L2 DIFF -3 PTS 4
5. Jarred Cole P4 W1 L3 DIFF -3 PTS 2
Week Four – Day Four
Thursday June 25
Keane Barry v Scott Mitchell
Stephen Burton v Keane Barry
Scott Mitchell v Stephen Burton
Mike Warburton v Keane Barry
Paul Nicholson v Scott Mitchell
Mark Webster v Stephen Burton
Keane Barry v Paul Nicholson
Scott Mitchell v Mark Webster
Stephen Burton v Mike Warburton
Mark Webster v Keane Barry
Mike Warburton v Scott Mitchell
Paul Nicholson v Stephen Burton
Mike Warburton v Mark Webster
Paul Nicholson v Mike Warburton
Mark Webster v Paul Nicholson
---
(Featured Image: Lawrence Lustig/PDC)
About The Author
You might be interested in