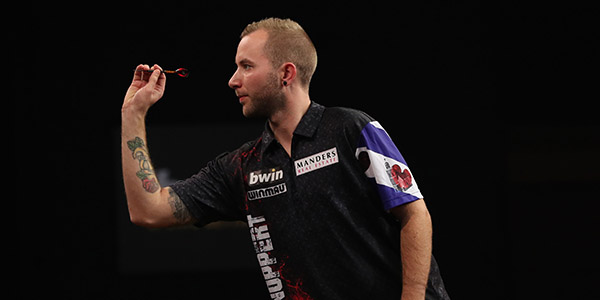 European Championship Permutations: Who needs what?
After a thrilling year of European Tour action with eight different champions already and countless pulsating matches, the season comes to an end this weekend in Gibraltar.
That means that the race to the European Championship, the qualification for which is now entirely based on performances on the European Tour, also concludes with several players looking to move into the field for Göttingen.
27 places have already been sealed at the twelfth edition of the tournament, including four-time champion Michael van Gerwen and reigning champion James Wade.
£13000 has been said to be the expected cut-off for the majority of the year, and of the players yet to qualify, Dimitri Van den Bergh, finds himself in the best position, on £14000 and with the power to add in Gibraltar. It would take a very unlikely sequence of events for 'The DreamMaker' not to make it to his second European Championship.
William O'Connor has also qualified for this weekend, so should have enough to qualify, while Ted Evetts, Ross Smith and John Henderson are in a much more precarious position.
Evetts looked a near certainty to qualify going into the summer break, but hasn't made it to any of the last 3 events and now finds himself waiting on other results if he is to be in Göttingen in a month's time.
Similarly for Smith, his European form has faltered recently and his chances look bleak, while Henderson should be expecting to drop out of the field as in-form pair Danny Noppert and Justin Pipe only need to win one game between them in Gibraltar to knock 'The Highlander' out of contention.
One of the stories of the season of the European Tour has been Michael Smith, who's been a seed for most of the events, but has only managed £9000 to this point. He is seeded for Gibraltar, however, but still needs a last 16 to have any chance of qualifying. Failure would mean a first ranking major missed for the world finalist since 2016.
Kim Huybrechts and Ritchie Edhouse also sit on £9000, so will need to beat a seeded player to force themselves in, and may well have to make it to the final session on Sunday evening. If 'The Hurricane' was to do enough this weekend, it may well prove to be a turning point for him after eighteen months of not getting the results he was used to.
Outside of those names, Steve West perhaps has the best chance as he is back in some sort of form. However, he hadn't won a game on the European stage in 2019 until a couple of weeks ago, so has a lot to do. Kirk Shepherd and Challenge Tour player Scott Taylor are alongside West on £7000, but would need their first ever Euro Tour quarter-final appearances to put themselves in contention.
There are 10 other qualifiers who could make it, José de Sousa undoubtedly in the best form out of those, but he needs at least a semi-final. Robert Thornton is more than capable of going on a run as well in Gibraltar, while Darius Labanauskas and Ryan Joyce have also shown signs recently of a big run.
It is sure to be an enthralling weekend as the final European Tour event is played out with plenty on the line.
Jamie Cameron
Picture: Lawrence Lustig
About The Author
You might be interested in