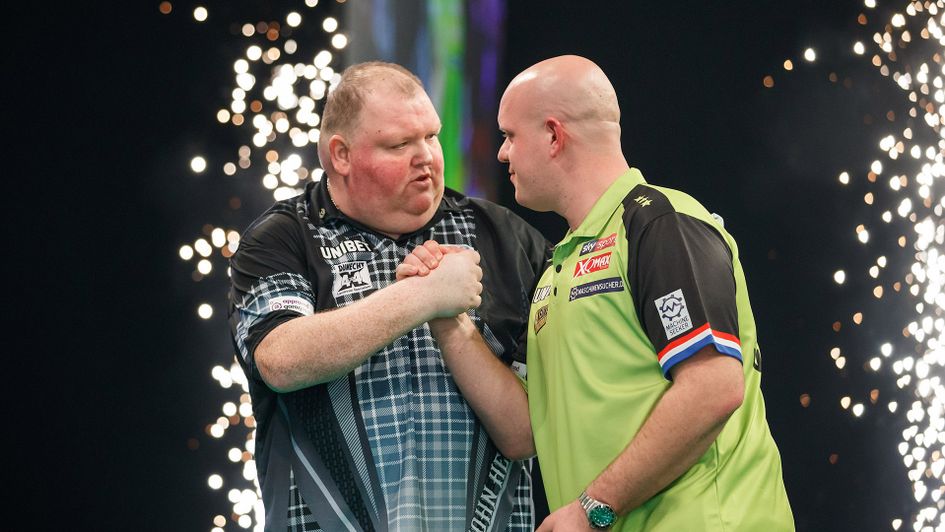 From John Henderson to Andy Callaby: Five greatest World Grand Prix shocks
The World Grand Prix's unique double-start format has a history of throwing up some monumental upsets, particularly with the best-of-three sets format in the first round.
11-time champion Phil Taylor lost in the first round on five occasions, a couple of times to relative unknowns.
Ahead of the tournament beginning on Tuesday evening, we take a look at some of those occasions as well as Michael van Gerwen's most recent opening round defeat.
ANDY CALLABY VS PHIL TAYLOR
Back in 2004, we saw a seismic shock which may never be surpassed in terms of its general unlikeliness.
Andy Callaby, a virtual unknown, came through the qualifiers having only played a handful of PDC tournaments before that, and was drawn against 16-time world champion Taylor.
Incredibly, Callaby beat 'The Power' 2-0 on his way to the last eight, where he was beaten by Alan Warriner, with Colin Lloyd going on to win the title.
Callaby did reach the quarter-finals of the UK Open in 2006, beating John Part in the last 16, but it was an unbelievable moment for a player who still doesn't have a Wikipedia page to this day.
JOHN HENDERSON VS MICHAEL VAN GERWEN
Current world number one Van Gerwen has only lost twice in the first round at the Grand Prix, once in his debut campaign in 2009.
The other occasion came three years ago at the hands of Scotsman John Henderson. 'Mighty Mike' actually won more legs than Henderson in the match, but that's one of the intricacies of the set-play format.
It was a big upset in the midst of arguably Van Gerwen's most dominant period after he stormed to the title the year before with no one laying a glove on him.
'The Highlander' beat another Dutch legend, Raymond van Barneveld in the quarter-finals, before losing to eventual champion Daryl Gurney in the last four.
ADRIAN GRAY VS PHIL TAYLOR
2007 saw Taylor suffer another first round exit as he was beaten by Adrian Gray.
The darting doyen took the first two legs, but only managed to win one more afterwards as Sussex thrower Gray put him out in straight sets.
'The Conqueror' was another player to win their next match, but he lost in the last eight to John Part.
It's one of only two televised quarter-finals Gray has reached in his career so far, but he remains on the professional circuit to this very day.
KEVIN PAINTER VS PHIL TAYLOR
Kevin Painter became the first ever player to defeat Taylor at the double-start event in 2001, playing in one of his first big professional tournaments.
He had reached the last eight twice at Lakeside, but 'The Power' had won all three previous editions of the Grand Prix.
Painter beat him 2-1, going on to see off Richie Burnett before losing heavily to Dennis Smith.
'The Artist' was never able to beat that run, getting to the last eight four more times, most recently in 2014.
STEVE WEST VS PHIL TAYLOR
Taylor's final appearance in the World Grand Prix ended very briefly as a 91 average wasn't enough to get past Steve West in 2016.
It was arguably the biggest tournament West had played in at that point, and he held his nerve to win 2-1 and end Taylor's Grand Prix career at 11 titles from 11 finals.
West would lose to Gurney in the next round in a straight sets defeat.
---
by Jamie Cameron
(Featured Image: Lawrence Lustig/PDC)
About The Author
You might be interested in