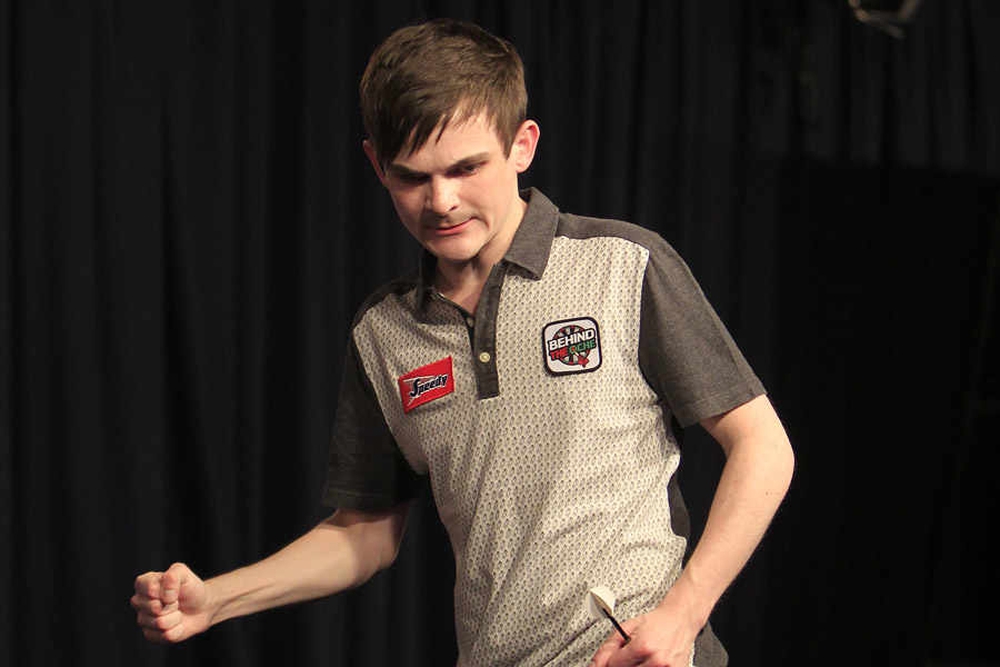 How Matthew Dennant could have scuppered the Glen Durrant story and very nearly did so
A third round Qualifying School tussle with Matthew Dennant may not seem to much significance compared to Glen Durrant's pilgrimage to the semi-finals of the Betfred World Matchplay, but it was in fact essential.
Middlesbrough's Durrant quite literally went from the famous Lakeside Country Club in Surrey, where he had lifted the prestigious crown for a third successive year, to the Robin Park Tennis Centre in Wigan, where he would fall on the cusp of a disastrous PDC failure.
After Darren Herewini and Vince Tipple had got the better of 'Duzza' in the third round on the first two days, and he was denied at the final hurdle by Reece Robinson on the penultimate day, Durrant found himself in a difficult situation.
His PDC adventure had almost been scuppered before it had even begun.
As a three-time BDO world champion the darting fraternity had envisaged Durrant taking Q-School by storm, producing a Corey Cadby-esque performance and obliterating the field. How wrong we were.
He would head back to his hotel on Saturday evening with a job still to be done, and he started well on Sunday morning. Convincing victories over Kelvin Nixon and James Smith moved 'Duzza' into the third round – the dreaded last 128 that had already claimed his scalp twice in the gruelling four-day long event.
Matthew Dennant would be the man breathing down his neck.
"I wouldn't have entered Q-School if I didn't think I was good enough to win a tour card," he said, after his loss to Durrant. "I've had one before after qualifying though Q-School so there's no reason it wouldn't happen again."
Nicknamed 'The Scholar', it would have been apt for the Walsall-based thrower to come through the school once again, but what was to follow will go down in darting folklore.
Durrant snatched the opening leg with an 11-darter, before 28-year-old Dennant reeled off three on the spin and silenced the spectators in attendance.
You could almost hear a pin drop amongst those watching on, but Durrant's head didn't. He pulled the match back into his hands. And, after multiple missed darts at his favourable double 16, Dennant capitulated.
As for Durrant he endured defeat in the last 16 at the hands of eventual winner Kirk Shepherd, but had done enough in terms of points to clinch his coveted tour card.
"I've always believed I'm good enough to beat anyone, so I wasn't thinking anything different to how I'd normally play," Dennant expressed. "I just went up and concentrated on my own darts.
"I was 4-2 up and left 32 after 12 darts so I'd done all the hard work, then I wired it with all three darts and Glen checked out.
"His quality shone through in the next, he went out in 11. The deciding leg was poor from my perspective, I was around the treble instead of in it and the game got away from me."
If Dennant's darts at double 16 had dropped millimetres to the right, we wouldn't sat here now labelling Glen Durrant a two-time PDC title winner, a World Matchplay quarter-finalist, we'd be sat here now watching a three-time world champion playing on the Challenge Tour or even potentially bidding to win a fourth successive BDO World Championship title.
A matter of millimetres caused the unpleasant end of Liverpool's Premier League aspirations last season with a Sadio Mane effort being ruled out by 11.7mm. Possibly even less than that handed Glen Durrant a PDC tour card. Durrant gained his 'golden ticket' – as Barry Hearn would say – by less than the width of a pocket diary.
As one man's story progressed, another one's came to a barbarous end. A disappointed Dennant added: "I was disappointed, not just because I was 4-2 up and missed chances to win, but I didn't play very well in the deciding leg and it was also the final day of Q-School so I knew that was my last chance. I hadn't done enough to win a card through the points order of merit."
The opportunity to beat Glen Durrant and scupper his PDC aspirations will forever live with the 28-year-old from Walsall, and his friends still consistently remind him to this present day.
"It's a strange one," Dennant claimed. "My mates don't let me forget the missed darts at double 16 and they've said that by missing those darts I've changed world darts because 'Duzza' is doing what he's doing now and that there'll be a new BDO world champion next year.
"But, it's not the first or only game I've ever lost after missing doubles it's just because of what Glen's achieving now that it's being remembered more."
After a significant amount of umm-ing and arr-ing, Durrant finally decided to make the leap from the BDO to the PDC, and what a decision it's proved to be.
"Glen is class both on and off the oche he's a brilliant player and a really nice guy," said Dennant, as he reflected on Durrant's success. "I've spoken to him a number of times at European Tour qualifiers and we've mentioned and had a laugh about the game.
"He's getting better and better, he puts in all the hard work so in my eyes he deserves all the success he gets. I expected him to be in the top 32 at the end of his first year – he's not a three-time world champion for nothing."
Subsequent to his tour card yearning coming to an end, Dennant was forced to compete on the Challenge Tour – five weekends consisting of four events. A gruelling weekend for any arrowsmith, with events commencing prior to 11am and not coming to completion until after 7pm.
"I've struggled this season on the Challenge Tour results wise," Dennant articulated. "I've not really got going at all yet. My performances haven't been too bad though, I had that 119 average in one game and looking at the stats on DartConnect I'm sat second in the averages so I'm playing fine or better than my results suggest anyway.
"I've lost numerous games 5-4 so I just need to turn those around and I might be alright. I qualified for the European Tour event in Leverkusen and lost 6-4 to Mensur Suljovic in the second round after playing some good darts.
"It's just a case of carrying on doing what I'm doing, sharpening up those doubles and be ready for Q-School next year."
About The Author
You might be interested in