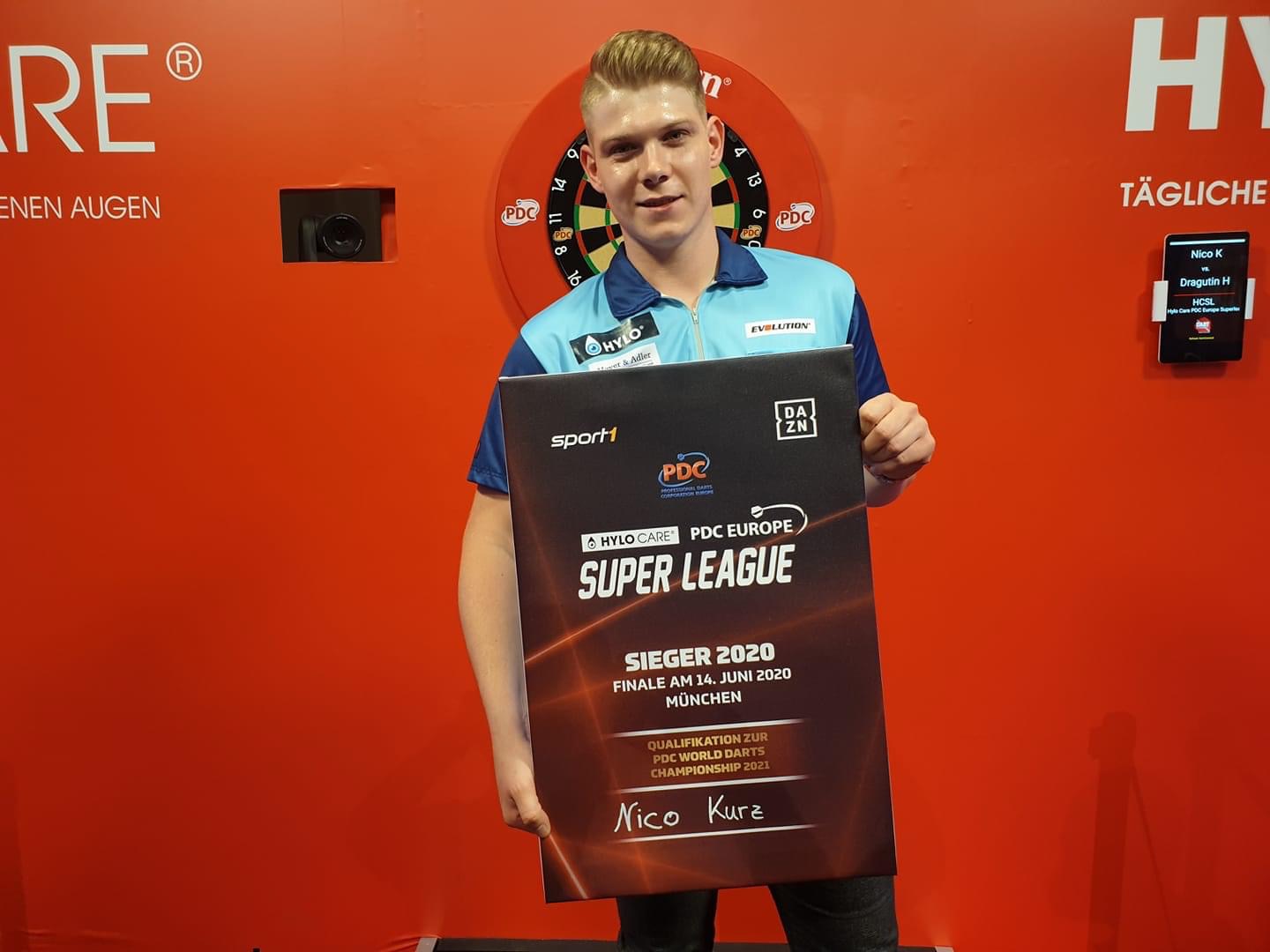 Nico Kurz secures Alexandra Palace return after German Super League success
German youngster Nico Kurz will return to the William Hill World Darts Championship in December after clinching the PDC Europe German Super League title for a second successive year.
Kurz's name was ringing around the Alexandra Palace auditorium in December as the emerging German prospect narrowly missed double 12 for a nine-darter, before reaching the third round on debut.
He will return to North London in six months time for his second appearance after surviving match darts against former World Championship qualifier Dragutin Horvat in a closely contested final.
Horvat claimed the opening leg of a thrilling finale as the former International Darts Open quarter-finalist punished missed darts at double from the 23-year-old, before later leading 2-1 thanks to a mesmerising 121 checkout.
After moving adrift in the early stages, Kurz turned the tables with back-to-back 18-darters and a 110 checkout to construct a slender 3-2 advantage, only for Horvat to level up proceedings after more squandered doubles from his fellow countryman.
Kurz then pinned a 15-darter on his favourite double tops to regain a narrow lead, prior to Horvat converting his second maximum and a magnificent 13-dart leg to reinstate the match's stalemate status.
Horvat subsequently executed his second 121 checkout of the contest to break the throw, before reeling off three legs in succession to gain a foothold and move a mere two legs away from an Alexandra Palace return.
Nico Kurz during December's World Championship in London (Photography: Lawrence Lustig/PDC)
Nevertheless, Kurz upped the ante as the Nidderau-based ace claimed three consecutive legs in 15 darts or less to move within one adrift of Horvat, only for the 44-year-old to regain a two-leg advantage and move on the brink of success with a clutch 80 checkout.
Despite his hopes seemingly fading away, Kurz failed to surrender to the increasing pressure being piled onto his shoulders by a determined Horvat, converting checkouts of 61 and 81 to force a deciding leg.
A fifth maximum and admirable set-up play from the young German placed him firmly in the driving seat in the decisive leg, but it was Horvat who earned a deserved match dart first after steady scoring.
Horvat, who was defeated in the World Championship first round at the hands of Simon Whitlock three years ago, narrowly missed double 12 for a spectacular 141 checkout, handing the 23-year-old the crown.
Beforehand, Kurz, who overcame two-time world champion Gary Anderson in the 2019 German Darts Masters, defeated both world number 38 Gabriel Clemens and two-time World Championship qualifier Kevin Munch.
German number two Clemens was a sizeable favourite to claim the spoils on Sunday evening, but Kurz staged a remarkable comeback from 4-2 adrift to oust the German Darts Masters finalist in the semi-finals.
Meanwhile, two-time BDO World Championship semi-finalist Michael Unterbuchner was thrashed in the semi-finals at the hands of Horvat after receiving a wild card selection for the rejigged tournament.
PDC EUROPE GERMAN SUPER LEAGUE
---
Finals Day
Sport1 Studios, Ismaning, Germany
Quarter-Finals
Gabriel Clemens 8-1 Manfred Bilderl
Nico Kurz 8-5 Kevin Munch
Dragutin Horvat 8-6 Steffen Siepmann
Michael Unterbuchner 8-4 Daniel Klose
Semi-Finals
Nico Kurz 9-7 Gabriel Clemens
Dragutin Horvat 9-3 Michael Unterbuchner
Final
Nico Kurz 10-9 Dragutin Horvat
---
(Featured Image: PDC Europe)
About The Author
You might be interested in