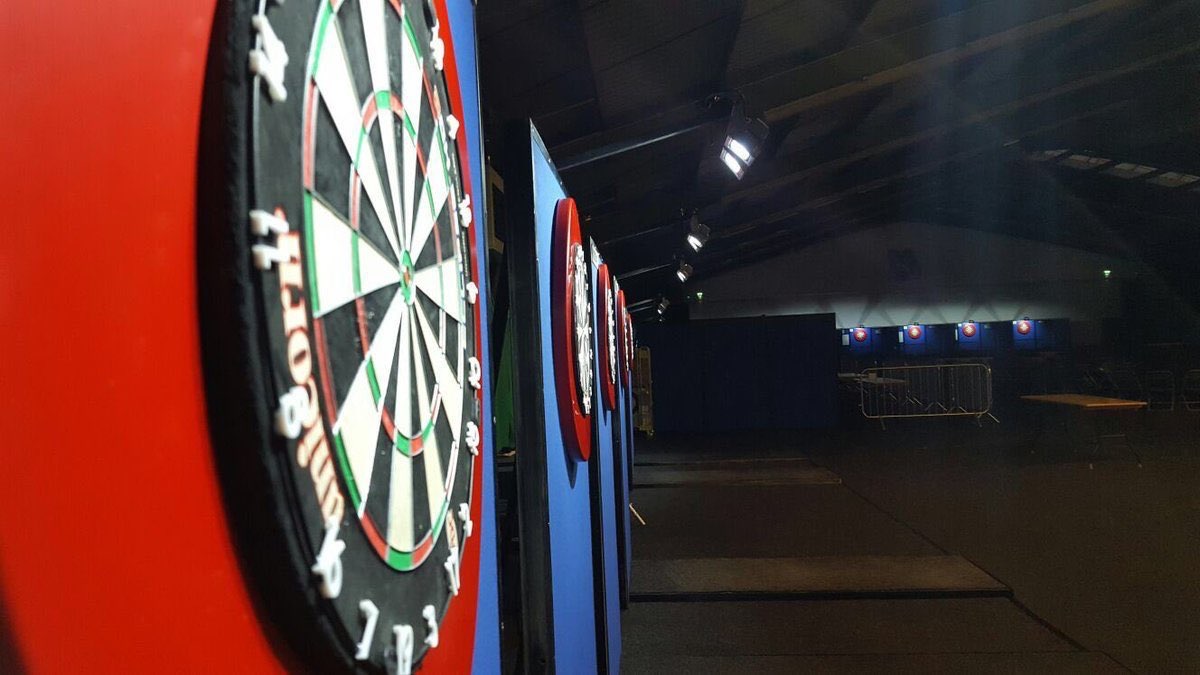 PDC Development Tour 5-10 entries: Meikle headlines field as Germany's Kurz doesn't feature
After a prolonged hiatus exceeding the six-month mark, PDC Development Tour darts returns this weekend at the Barnsley Metrodome in South Yorkshire.
The Development Tour caters for younger players, ranging from 16 to 24 in terms of age and provides qualification for the World Youth Championship.
PDC tour card holder Ryan Meikle headlines the field as the current number one seed after winning a brace of titles during the last Development Tour outing in early March.
Former world youth finalist Berry van Peer, who also reigned victorious earlier this year in Germany, joins Meikle in Barnsley.
Reigning junior world champion Keane Barry makes the trip across the pond from Ireland, while world youth finalist Adam Gawlas has made the journey from the Czech Republic.
Dom Taylor, who reached three semi-finals in four events earlier this year, appears once again, as does former event winner Jarred Cole and Welshman Lewy Williams.
PDC tour card holders Martin Schindler, Ted Evetts, Callan Rydz, Geert Nentjes, Harry Ward, Niels Zonneveld, William Borland and Bradley Brooks also feature.
Aside from the aforementioned Gawlas, a number of additional players, including both Sebastian Bialeki and Roman Benecky, have made the journey from Eastern Europe.
Gibraltarians Justin Hewitt and Craig Galliano are also involved, as well as Hugo Leung and Lee Lok Yin – who have both travelled across the world from Hong Kong.
As well as various international players, a number of female throwers will also head to Barnsley. Josie Paterson, daughter of former World Masters champion Lorraine Winstanley, features alongside reigning girls world master Katie Sheldon.
Two-time World Championship qualifier Nico Kurz has opted out of the six events and will instead attempt to qualify for the German Darts Championship in his home country.
The PDC Development Tour recommences on Friday morning at the Barnsley Metrodome, with the first of six successive £10,000 events taking place.
PDC DEVELOPMENT TOUR
---
Development Tour 5-10
September 25-27
Barnsley Metrodome
Entries
Aaron Ayres
Aaron Russell
Adam Batchelor
Adam Gawlas
Adam Paxton
Aiden Cope
Alex Jacques
Alfie Jacques
Andrew Clark
Anthony Doherty
Ben Cheeseman
Ben McCaffery
Ben Quenby
Ben West
Benjamin Smith
Berry van Peer
Bertus Herks
Billy Warriner
Brad Phillips
Bradley Aldous
Bradley Brooks
Bradley Coltman
Bradley Halls
Bradley Mulholland
Bradley Timlin
Brandon Western
Brent Plaisier
Brian Raman
Callan Garwood
Callan Rydz
Callum Dudding
Callum Matthews
Callum Wildridge
Cameron Anderson
Cameron Doyle
Cameron Hodgson
Carter Guiney
Charlie Green
Charlie King
Charlie Symons
Chris Birch
Coby Jones-Swanson
Connor Beasley
Connor Bowler
Connor Letford
Connor Pickett
Connor Scutt
Connor Sykes
Corey Burton
Courtney Hine
Craig Galliano
Curtis Donnelly
Curtis Thorpe
Daan Bastiaansen
Damian Mol
Daniel Castle
Daniel Jones
Daniel Perry
Daniel Taylor
Daniel Thomas
Danny Goddard
Danny Jansen
Danny Key
Danny van Trijp
David Johnson
David Schlichting
Declan Coles
Dom Taylor
Eduardo Castaldo
Egor Tvorogov
Eirwyn Evans
Ethan Jenkins
Fred Box
Freddie Francis
Frederick Still
Geert Nentjes
George Cressey
George Killington
George Lynch
Gian van Veen
Grant Brown
Harry Kelly
Harry Ward
Henk Snijder
Henry Cutting
Henry Gibbens
Henry Reddin
Jack Dickinson
Jack Kerr
Jack Kirtland
Jack Main
Jack Male
Jack Neary
Jack Vincent
Jacob Cooksey
Jacob Gwynne
Jaikob Selby-Rivas
Jake Stewart
Jakob Kelly
Jamai van den Herik
James Beeton
James Green
James Parkin
Jamie Kynaston
Jamie Peetoom
Jan Endendyk
Jannik Kayadelen
Jared Hall
Jarred Cole
Jeremy Brandenburg
Jim Moston
Jitse van der Wal
Joe Davis
Joe Higgins
Joe Russell
Joe Usher
John Brown
John Wightman
Johnny Adair
Jordan Ward
Josh McCarthy
Joshua Hook
Joshua Jenkins
Joshua Lloyd
Joshua Richardson
Josie Paterson
Jurjen van der Velde
Justin Hewitt
Justin Smith
Kai Haddock
Kalem Marsh
Katie Sheldon
Keane Barry
Keegan Charlton
Keelan Kay
Keelan Morrison
Keith O'Neill
Kenneth Holland
Kevin Doets
Kevin Knopf
Kevin Troppmann
Kieran Harris
Kieran Hoare
Kieron Robinson
Konnor Jones
Kyran Jones
Leanne Peetoom
Lee Lok Yin
Leighton Calder
Lennon Cradock
Levy Frauenfelder
Lewis Bennett
Lewis Gurney
Lewis McGuigan
Lewis Plank
Lewis Pride
Lewy Williams
Liam Gordon
Liam Hill
Liam Johnson
Liam Meek
Liam Waddingham
Liam Willis
Llew Bevan
Lloyd Walker
Louis McGregor
Louis Whitehouse
Lukas Lilienbecker
Luke Colwill
Luke Ferris
Luke Rutter
Luke van der Kwast
Maartendirk Woord
Maikel Verberk
Man Lok (Hugo) Leung
Marcus Tommaso Brambati
Martin Schindler
Mason Harmer
Matt Smith
Matthew Holbrook
Michael Poole
Mikey Rees
Moreno Blom
Morgan Smith
Nathan Ball
Nathan Boon
Nathan Care
Nathan Girvan
Nathan Potter
Nathan Rafferty
Niels Zonneveld
Ole Holtkamp
Owen Maiden
Owen Roelofs
Peter Fisher
Philip Want
Raphael Leufgen
Reece Colley
Reece Pauling
Rhys Griffin
Robbie Chalmers
Robbie Lickiss
Robin Beger
Roman Benecky
Rory Hunt
Rory Jolly
Rusty-Jake Rodriguez
Ryan Bell
Ryan Jones (Ammanford)
Ryan Meikle
Ryan O'Connor
Ryan Payne
Ryan Ward
Sam Aitkens
Sam Coenders
Sam Cromwell
Samuel Kapur
Scott Hope
Scott Millar
Sean Ashburner
Sean Negrette
Sebastian Bialecki
Sebastian Oschitzki
Shane Davies
Sven Hesse
Tavis Dudeney
Ted Evetts
Terence Archer
Thomas Cromwell
Thomas King
Thomas Lovely
Thomas Sawford
Timo Van den Elshout
Tobias Fischer
Tom Dawson
Tom Whitfield
Tomas Houdek
Tony Procter
Vilem Sedivy
Wesley van Trijp
Will Roberts
William Blackwell
William Borland
Zachary Thornton
Format
Last 256 – Best of seven legs
Last 128 – Best of seven legs
Last 64 – Best of seven legs
Last 32 – Best of seven legs
Last 16 – Best of seven legs
Quarter-Finals – Best of nine legs
Semi-Finals – Best of nine legs
Final – Best of nine legs
Prize Fund
Winner – £2,000
Runner-Up – £1,000
Semi-Finals – £500
Quarter-Finals – £300
Last 16 – £200
Last 32 – £100
Last 64 – £50
Total – £10,000
---
(Featured Image: Lawrence Lustig/PDC)
About The Author
You might be interested in