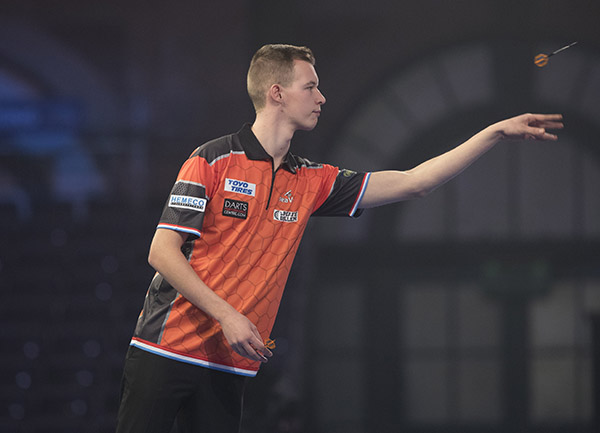 PDC Home Tour: Geert Nentjes wins all three games to become fourth group winner
Geert Nentjes produced three excellent showings to win Group 4 of the PDC Home Tour and become the latest man through to the next round of the innovative competition.
Although the Dutchman won the group by four points in the end, it came down to a winner-takes-all showdown in the final game of the evening between Nentjes and Ross Smith, and Nentjes won 5-3 to seal success.
There is still the issue of video quality for the production to try and sort out, but of the darts we could see, there was some excellent stuff thrown, particularly by rising star Nentjes, whose stock in the game continues to grow.
The fourth night of the competition got underway with a comfortable win for 2019 UK Open quarter-finalist Smith, who won 5-1 against the first female Tour Card holder, Lisa Ashton.
Smith hit 5 of his 11 double attempts, and the high quality continued in the next contest as Urk's Nentjes pipped Mickey Mansell in a deciding leg. 'The Clonoe Cyclone' did take out two ton-plus finishes in typical Mansell fashion, but squandered two crucial 62 checkouts which were turning points in the match.
Nentjes was straight back on, and doubled his points tally with another win. Despite averaging much higher than Ashton for the whole match, he couldn't open up a gap over 'The Lancashire Rose', but did manage to squirm over the line 5-3.
Mansell then got the win his performance in his opener arguably deserved as he saw off Smith 5-3. The double 9, double 3 checkout got him over the line was unorthodox, but the Northern Irishman wouldn't have minded as he gave himself a fighting chance of winning the group.
However, that chance was squandered in the very next match as four-time women's World Champion Ashton averaged over 90 in a 5-3 win with a superb 71% checkout rate.
That meant everything hinged on the Smith-Nentjes clash to round off the evening's entertainment. Nentjes got off to a flying start with a 14-darter and a 13-darter, but Smith threatened a comeback when the Dutchman missed the double for a 107 checkout and 'Smudger' finished 110 to make it 4-3.
Kent's Smith gave himself a double to take it to a decider for the title, but missed it and Nentjes cleaned up to become the third man after Luke Woodhouse and Dave Chisnall to win all three of their games in the PDC Home Tour so far.
The action continues on Tuesday evening as Luke Humphries, Devon Petersen, Joe Murnan and Nick Kenny take to the oche. Petersen beat Humphries on the way to becoming the inaugural Darts at Home Champion at the start of the month, so the Newbury man will certainly be looking for revenge.
2020 PDC Home Tour
Group 4
Ross Smith 5-1 Lisa Ashton
Mickey Mansell 4-5 Geert Nentjes
Lisa Ashton 3-5 Geert Nentjes
Ross Smith 3-5 Mickey Mansell
Mickey Mansell 3-5 Lisa Ashton
Geert Nentjes 5-3 Ross Smith
Final Standings
1. Geert Nentjes – Pld 3  W 3  L 0   LD +5   Pts 6
2. Ross Smith – Pld 3   W 1   L 2   LD 0   Pts 2
3. Mickey Mansell – Pld 3   W 1   L 2   LD -1   Pts 2
4. Lisa Ashton – Pld 3   W 1   L 2   LD -4   Pts 2
Jamie Cameron
Picture: PDC
About The Author
You might be interested in