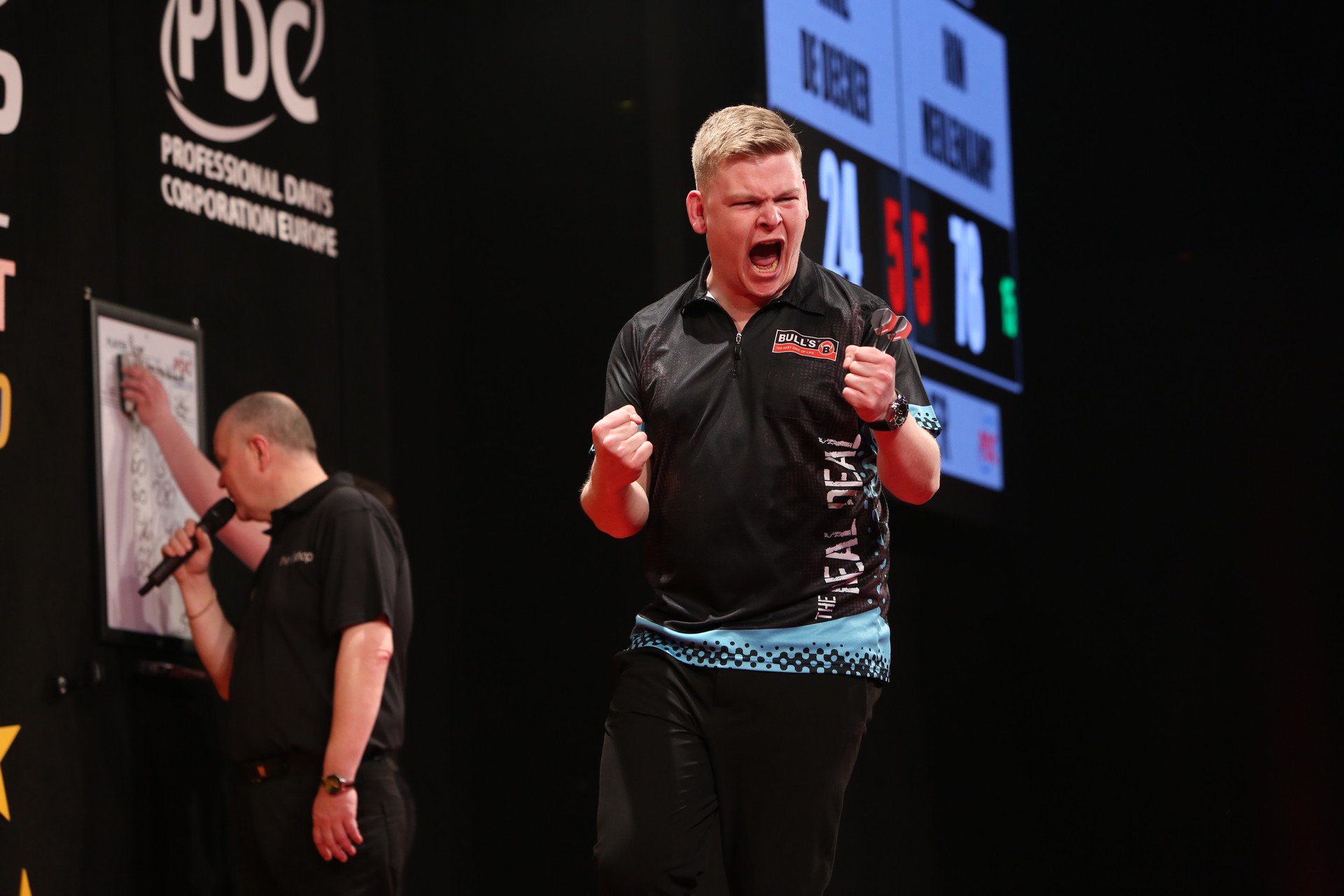 PDC Home Tour: Mike De Decker beats Steve Brown in penultimate match to top Group 26
A clutch 135 checkout from Mike De Decker helped him to a 5-2 win over Steve Brown, enough to leapfrog 'The Bomber' on head-to-head and finish top of Group 26 of the PDC Home Tour.
Bristol thrower Brown won his first two matches for the concession of just two legs, but never really got going against Belgian youngster De Decker, and 'The Real Deal' took out 135 on the bull with Brown sat on 83 to win the group.
With the vast majority of Home Tour entrants having already played, the groups are now mostly made up of previous runners-up who will get a second chance to seal a spot in the last 32.
Brown, a PDC title winner in 2011, got the night off to a fine start with a 5-0 win over Conan Whitehead. It was a 92 average from the JDC chairman who unexpectedly won his Tour Card back at the start of this year.
Martin Atkins, who was unlucky not to win the group he was initially in, joined Brown on two points after a superb display against De Decker. Wigan's Atkins won 5-3 averaging 102 and only missed three darts at doubles.
Six-time PDC World Championship qualifier Brown made it two wins from two as he saw off Atkins 5-2 despite having a lower average. 38% on the doubles was enough for the Bristol man to increase his lead at the top.
However, De Decker closed that gap with a 5-1 win over an out of sorts Whitehead. It meant Brown needed only three legs in the penultimate game of the evening to finish top.
'The Real Deal' gave himself chances to break the throw and give himself the early break he needed, but Brown held on for 2-2 and only required one more leg.
De Decker held in 15 darts before the crucial sixth leg saw him break with a 135 checkout and then hold in 13 darts to go ahead of Brown on head-to-head and become the first Belgian player to qualify for the second stage.
That meant the night's final game was just for pride, and Atkins took it 5-4, hitting more than half of his checkout attempts to finish third despite winning twice.
The PDC Home Tour continues on Wednesday evening with Steve Beaton and Scott Waites among the latest batch of players to be given a second chance.
2020 PDC Home Tour
Group 26
Conan Whitehead 0-5 Steve Brown
Mike De Decker 3-5 Martin Atkins
Steve Brown 5-2 Martin Atkins
Conan Whitehead 1-5 Mike De Decker
Mike De Decker 5-2 Steve Brown
Martin Atkins 5-4 Conan Whitehead
Final Standings
https://twitter.com/OfficialPDC/status/1260319323903664132
Jamie Cameron
Picture: PDC
About The Author
You might be interested in