PDC Home Tour: Spain's Noguera seals Group 22 spoils as Diamond White crashes out
Surprise package and new arrival on the professional scene, Jesus Noguera claimed the spoils as Group 22 on the PDC Home Tour took place on Friday evening.
Noguera, who finished second best on last year's PDC Challenge Tour in order to clinch his coveted tour card, progressed to the second phase of the Home Tour whilst dialling in from Orihuela in Spain.
A staggering 117 darts were missed at double throughout the duration of the evening, as world number 10 Ian White and major finalists Danny Noppert and James Wilson were added to the growing list of early casualties.
Multiple-time PDC ranking event winner, White and Noguera got Friday evening's Group 22 on the road, with the Spaniard moving top of the pile early on with a narrow victory.
Noguera gained an early advantage with a break of throw in the opening leg, before his Stoke-on-Trent-based opponent pinned back-to-back 15-darters to turn the tables.
The Spaniard then claimed the next two legs, finding his second maximum and a 14-darter, only for White to level up proceedings once again on double top.
The subsequent two legs went the way of Noguera as he became the first player of Spanish descent to play on the PDC Home Tour in fantastic fashion.
NOGUERA BEATS WHITE!

That match showed that darts really is all about taking your chances at the right time as Jesus Noguera completes a 5-3 win over Ian White in the opening game of the night!

Watch all the action FREE – https://t.co/6KOZ9IEnDF pic.twitter.com/sr0feCCmNo

— PDC Darts (@OfficialPDC) May 8, 2020
Noppert then fended off an inspired comeback from Huddersfield's Wilson. The Dutchman performed terrifically in the early stages, opening up a 4-1 advantage, only for the Yorkshireman to reel off the next three to force an unexpected decider.
Both players opened with maximums in the last leg and left two-dart checkouts after 12 darts, though, it was Joure-based Noppert who prevailed with a clutch 64 checkout.
Subsequently, two-time Challenge Tour event winner Noguera, who turned 30 years of age on Sunday, continued to emerge as a worthy contender to top the group with a 5-2 win over Wilson in a scrappy affair.
The Orihuela-based ace recorded an average of just 84.93 compared to Wilson's sub-80 effort, but his marginally superior doubling percentage proved decisive in the final outcome.
The two highest ranked players in Group 22 then went head-to-head, with 'Diamond' White overcoming Noppert in a match that failed to live up to its high expectations.
Doubles were missed at the truckload as White prevailed despite averaging little more than 81 and squandering ten darts on the outer ring.
WHITE WINS!

Ian White keeps himself in contention for taking the group title after a dominant 5-2 win over Danny Noppert!

Watch all the action FREE – https://t.co/6KOZ9IEnDF pic.twitter.com/EIuPwRD1B1

— PDC Darts (@OfficialPDC) May 8, 2020
Noppert then returned to winning ways against Noguera in spite of squandering an additional 19 darts at double, but was denied the chance of clinching top spot by a solitary leg.
Heading into the final match of the night, White, who claimed the final Players Championship title before the season was brought to the ground, needed to deny Wilson getting to four legs.
He failed to do so, with 'Jammy Dodger' claiming a deciding leg victory over the 49-year-old, in yet another contest riddled with missed doubles.
WILSON WINS!

James Wilson wins the final match of the night 5-4 and in turn, Jesus Noguera wins Group 22 and becomes the first Spaniard to win his group on the Unibet Home Tour! pic.twitter.com/Eq0royacPe

— PDC Darts (@OfficialPDC) May 8, 2020
The PDC Home Tour returns on Saturday evening with an additional four professionals entering the fray.
Kyle Anderson, who recently fully recovered from coronavirus, headlines the Group 23 field, lining up alongside German World Cup of Darts star Martin Schindler, Dutchman Dirk van Duijvenbode and Sweden's Daniel Larsson.
PDC HOME TOUR
---
Group 22
Friday May 8
Jesus Noguera 5-3 Ian White
Danny Noppert 5-4 James Wilson
Jesus Noguera 5-2 James Wilson
Ian White 5-2 Danny Noppert
Danny Noppert 5-2 Jesus Noguera
James Wilson 5-4 Ian White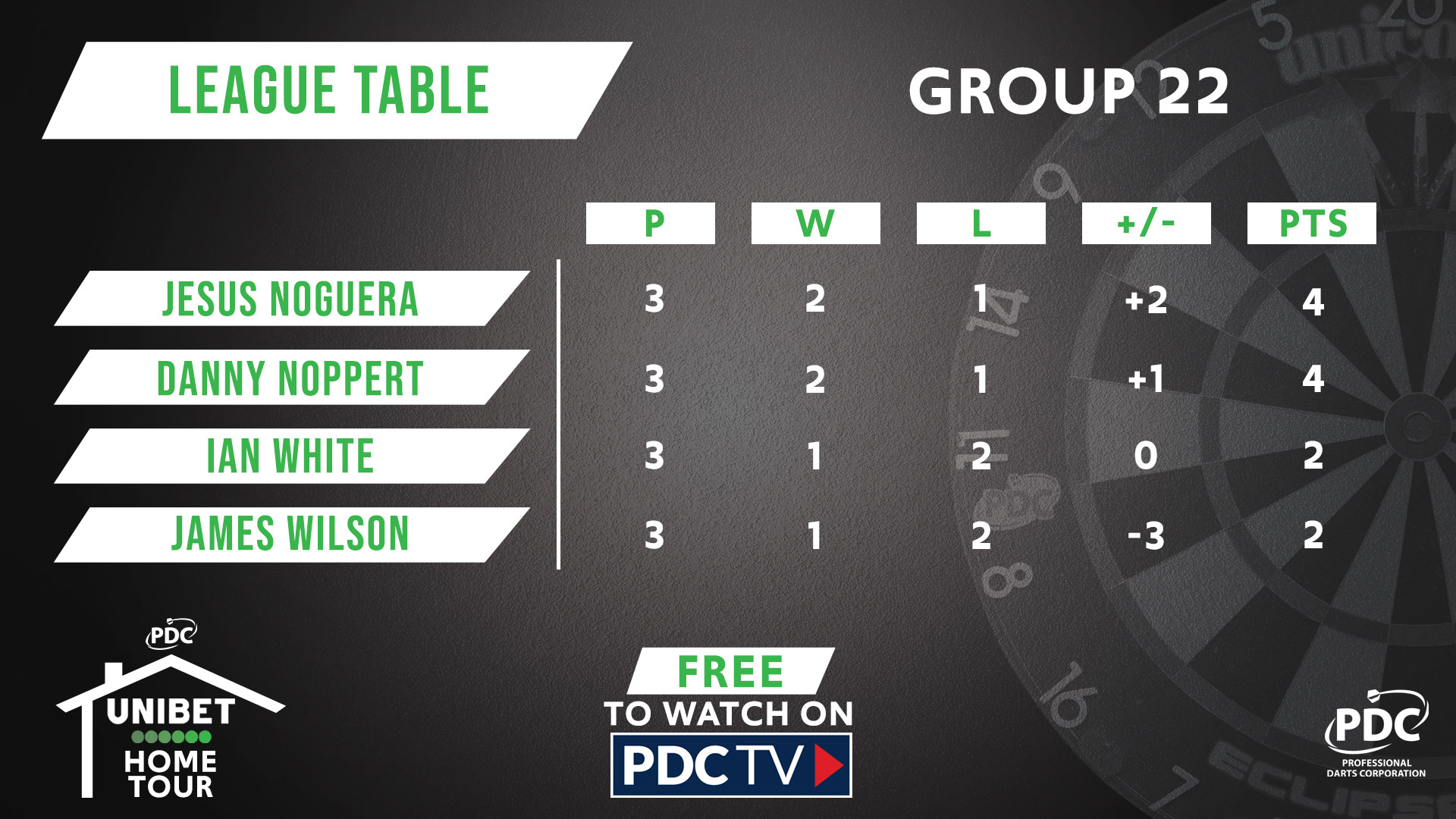 Group 23
Saturday May 9
Kyle Anderson v Daniel Larsson
Martin Schindler v Dirk van Duijvenbode
Daniel Larsson v Dirk van Duijvenbode
Kyle Anderson v Martin Schindler
Martin Schindler v Daniel Larsson
Dirk van Duijvenbode v Kyle Anderson
---
About The Author
You might be interested in