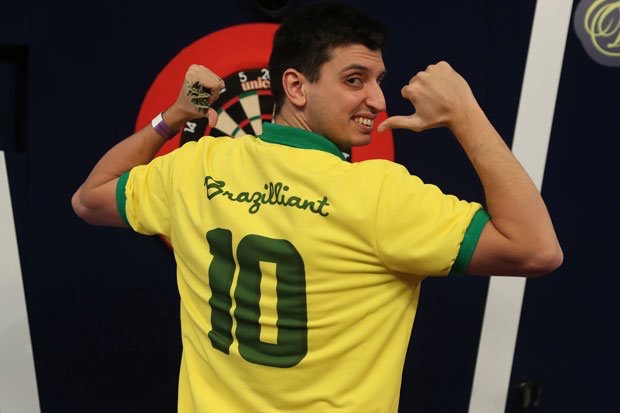 Portela and Preston claim maiden PDC titles
Diogo Portela and Simon Preston have claimed their maiden PDC titles on the opening weekend of Challenge Tour action at the Robin Park Leisure Centre in Wigan.
Diogo Portela recently became the first Brazilian to qualify for the William Hill World Darts Championship as he came through the Central and South American World Championship Qualifier in Rio De Janeiro and today has claimed his first PDC title on the Challenge Tour.
'Brazilant' agonisingly missed out on snatching a tour card last weekend in Hildesheim, loosing out on the golden ticket by one point. Because of this, the Brazilian was forced to play Challenge Tour to have any chance of playing any Players Championship darts this year.
Portela began the second event with a 5-1 win over Carlo Van Peer before seeing off former UK Open semi-finalist Barrie Bates 5-3. The Brazilian then trashed Lewis Pride 5-1 before completing a treble of 5-4 victories, beating Ricky Williams, Callan Rydz and Ritchie Corner.
Ben Burton suffered a 5-3 defeat to Portela before a 5-3 win over Michael Bernard secured the title for 'Braziliant'.
Simon Preston was the winner of the years opening Challenge Tour event, picking up the £2,000 in winners prize money.
Preston began the day with a 5-2 win over Stuart Kellett before edging past Scottish Open champion Cameron Menzies 5-4. Back to back 5-3 victories followed as Preston reached the last 16 with wins over Andy Boulton and Michael Gillet.
Suffolk-based Brett Claydon was next to suffer defeat to Preston before the semi-final beaconed with a 5-2 win over Michael Bradbury. Berry Van Peer was Preston's semi-final opponent but was beaten 5-3 before Preston saw off inform youngster Jarred Cole 5-2 in the final.
Hertfordshire-based ace, Cole, had a fantastic 2017 in both the Junior Darts Corporation and BDO circuits. 'King of the Castle' finished top of the JDC UK Tour Order of Merit and was crowned Finder Darts Masters Youth winner in December.
Cole whitewashed Glenn Gibson and then trashed Simon Tate 5-1 before edging past Bryn Suckley, Lee Shewan, Dave Ladley and John Bowles in nine-leg contests.
The teenager then defeated a former World Championship qualifier in Mark Frost 5-3 in the semi-finals as he secured a spot in the decider, but had to settle for the £1,000 runner-up prize.
Challenge Tour
Saturday 27 January 2018
EVENT ONE
Last 16
Jarred Cole 5-4 Dave Ladley
John Bowles 5-3 Steven Kirkby
Mark Frost 5-4 Dan Read
Michael Barnard 5-3 Martin Lukeman
Simon Preston 5-2 Brett Claydon
Martin Bradbury 5-0 Jason Lovett
Martyn Turner 5-2 Jon Jukes
Berry van Peer 5-2 Ben Burton
Quarter-Finals
Jarred Cole 5-4 John Bowles
Mark Frost 5-3 Michael Barnard
Simon Preston 5-0 Martin Bradbury
Berry van Peer 5-2 Martyn Turner
Semi-Finals
Jarred Cole 5-3 Mark Frost
Simon Preston 5-3 Berry van Peer
Final
Simon Preston 5-2 Jarred Cole
EVENT TWO
Last 16
David Pallett 5-2 Jeff Smith
Michael Barnard 5-1 Mark Frost
Jamie Hughes 5-1 Jarred Cole
Peter Mitchell 5-3 Steven Smith
Richie Corner 5-4 Andy Jenkins
Diogo Portela 5-4 Callan Rydz
Ben Burton 5-2 Andy Boulton
Simon Preston 5-1 Rhys Hayden
Quarter-Finals
Michael Barnard 5-2 David Pallett
Peter Mitchell 5-3 Jamie Hughes
Diogo Portela 5-4 Richie Corner
Ben Burton 5-4 Simon Preston
Semi-Finals
Michael Barnard 5-2 Peter Mitchell
Diogo Portela 5-3 Ben Burton
Final
Diogo Portela 5-3 Michael Barnard
Photography courtesy of Lawrence Lustig and the PDC
About The Author
You might be interested in