Premier League Darts: Four further nights to be held behind closed doors with London Play-Offs uncertain
An additional four Unibet Premier League Darts nights will go ahead behind closed doors in Milton Keynes following further cancellations from venues across the continent.
Three-time world champion Glen Durrant currently leads the way in the current standings after enjoying a scintillating start to his Premier League roadshow.
Durrant will be hoping to remain top of the pile as the league phase resumes and concludes in a rather different environment than the Middlesbrough man has become accustomed to.
Following an already scheduled six successive evenings of behind closed doors action from September 25, the remaining four league nights will also be played without spectators during the following week.
Planned nights in Glasgow, Manchester, Newcastle and Sheffield have now been scrapped from the calendar by virtue of the respective arenas cancelling upcoming events in front of crowds.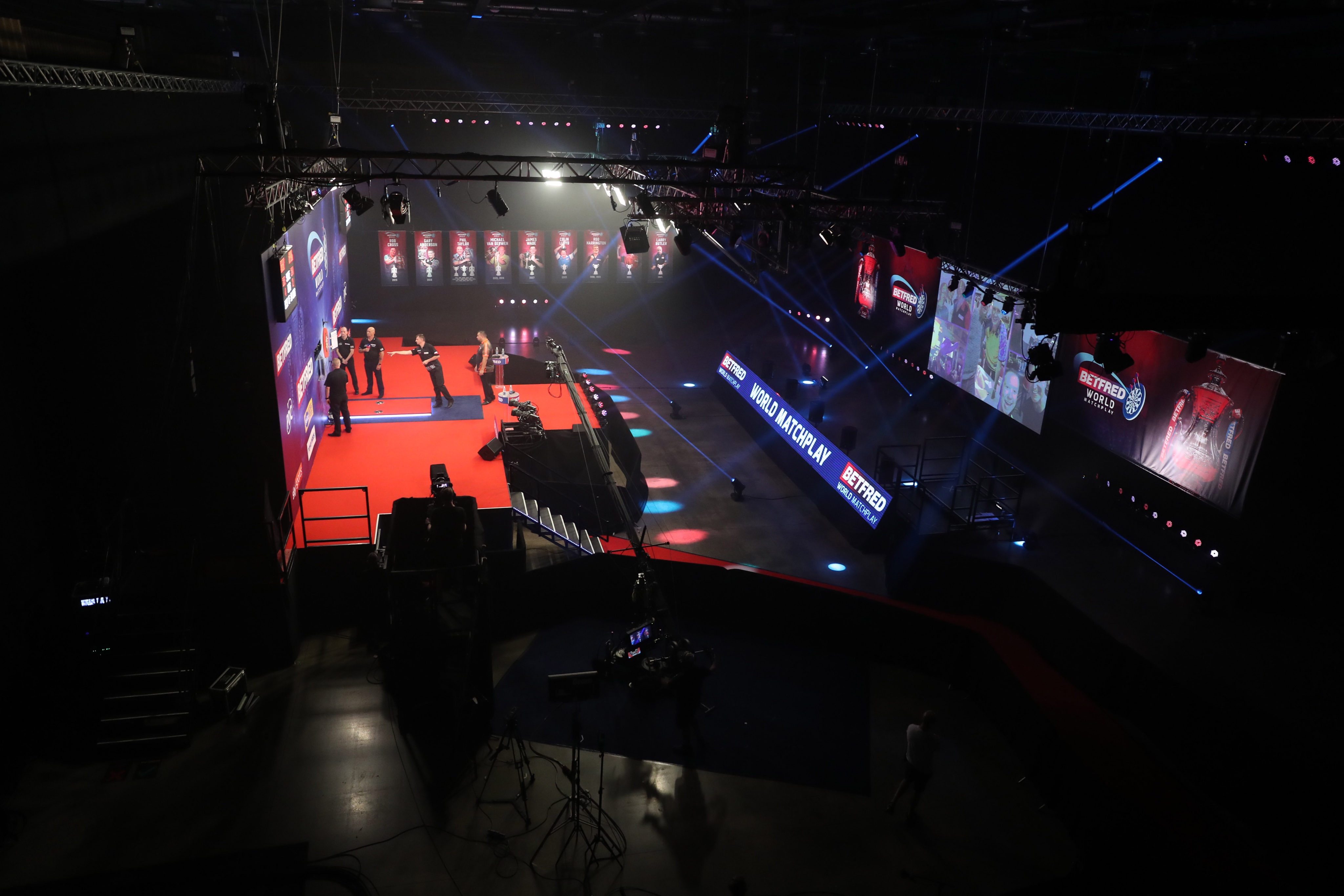 The Marshall Arena during the recent World Matchplay (Photography: Lawrence Lustig/PDC)
After recently hosting the World Matchplay, the Marshall Arena will become the temporary home of Premier League Darts due to current restrictions in place surrounding the coronavirus pandemic.
An artificial atmosphere will be pumped into the arena using a specialised sound system, while fan interactions will remain in place thanks to a large screen behind the players on stage.
Despite the league phase reaching its climax in a behind closed doors setting, hopes remain in place to hold the annual Play-Offs in front of spectators on October 22 at its usual venue, London's O2 Arena.
Should this optimistic move not be possible, an additional night will be scheduled behind closed doors on September 2, making the highly-anticipated Finals Night Sunday September 6.
"We have continued to work with all relevant parties in recent weeks in a bid to stage these four Unibet Premier League nights with a crowd," said PDC Chief Executive Matt Porter.
"As we are still not able to guarantee this and bearing in mind the need to provide clarity for fans with tickets to these events, we will now be staging a further four nights behind closed doors in Milton Keynes.
"We are continuing to work with The O2 in a bid to end the season in style with the Play-Offs in front of a live crowd on Thursday October 22 if practicable, with the option of adding a further night in September in Milton Keynes available should this not be possible."
Premier League Darts will return to Sky Sports from September 25, with world champions colliding as Michael van Gerwen faces Rob Cross and Peter Wright takes on Glen Durrant.
PREMIER LEAGUE DARTS
---
REVISED SCHEDULE
Please note the revised schedule is correct as of Monday August 17 and further amendments could be made
Night Seven – Tuesday August 25, Milton Keynes
Night Eight – Wednesday August 26, Milton Keynes
Judgement Night – Thursday August 27, Milton Keynes
Night 10 – Friday August 28, Milton Keynes
Night 11 – Saturday August 29, Milton Keynes
Night 12 – Sunday August 30, Milton Keynes
Night 13 – Thursday September 3, Milton Keynes
Night 14 – Friday September 4, Milton Keynes
Night 15 – Saturday September 5, Milton Keynes
Night 16 – Sunday September 6, Milton Keynes
Play-Offs – Thursday October 22, The O2, London
UPCOMING FIXTURES
Night Seven
Tuesday August 25 (6.30pm)
Marshall Arena, Milton Keynes
Michael Smith v Gary Anderson
Michael van Gerwen v Rob Cross
Nathan Aspinall v Gerwyn Price
Chris Dobey (C) v Daryl Gurney
Peter Wright v Glen Durrant
Night Eight
Wednesday August 26 (6.30pm)
Marshall Arena, Milton Keynes
Gary Anderson v Gerwyn Price
Nathan Aspinall v Daryl Gurney
Michael Smith v Rob Cross
Michael van Gerwen v Glen Durrant
Peter Wright v Jeffrey de Zwaan (C)
Judgement Night
Thursday August 27 (6.30pm)
Marshall Arena, Milton Keynes
Glen Durrant v Rob Cross
Nathan Aspinall v Michael Smith
Peter Wright v Daryl Gurney
Michael van Gerwen v Gary Anderson
Jermaine Wattimena (C) v Gerwyn Price
Night 10
Friday August 28 (6.30pm)
Marshall Arena, Milton Keynes
4x league phase matches to be announced
Night 11
Saturday August 29 (6.30pm)
Marshall Arena, Milton Keynes
4x league phase matches to be announced
Night 12
Sunday August 30 (6.30pm)
Marshall Arena, Milton Keynes
4x league phase matches to be announced
Night 13
Thursday September 3 (6.30pm)
Marshall Arena, Milton Keynes
4x league phase matches to be announced
Night 14
Friday September 4 (6.30pm)
Marshall Arena, Milton Keynes
4x league phase matches to be announced
Night 15
Saturday September 5 (6.30pm)
Marshall Arena, Milton Keynes
4x league phase matches to be announced
Night 16
Sunday September 6 (6.30pm)
Marshall Arena, Milton Keynes
4x league phase matches to be announced
Play-Offs
Thursday October 22
The O2, London
Semi-Finals
Final
---
(Featured Image: Lawrence Lustig/PDC)
About The Author
You might be interested in