Remote Darts League: Defending champion Richardson remains unbeaten with three wins on Night 16
Defending champion James Richardson returned to top spot with a clean sweep on Night 16 of the second Remote Darts League, while Joe Chaney and Thibault Tricole also picked up wins.
Richardson has lost just once across the opening two seasons of the Remote Darts League, with that defeat coming midway through the first edition at the hands of three-time World Championship runner-up Tony O'Shea.
The Northamptonshire-based thrower continued his invincible form on Wednesday evening as he swept aside both France's Tricole and Canada's Chaney as well as Women's Port City Open champion Stacey Pace.
Richardson began his evening with a comfortable 6-3 victory over Tennessee-based Chaney, despite squandering a staggering 16 darts on the doubles.
The table-topper raced into a 3-1 lead, only for Chaney to convert crucial checkouts of 100 and 106 to remain afloat. However, Richardson then reeled off three legs in succession to get off the mark on Night 16.
Richardson proceeded to complete a customary 6-3 win over France's number one Tricole, before capping off his evening with a 6-2 thrashing of female star Pace – who averaged a mere 61.53 and remains without a point.
Colorado's Pace started superbly and was arguably the better player in the opening stages of an eventually one-sided encounter. She punished several squandered attempts at double from her opponent, before completing an incredible 13-darter to construct a 2-1 advantage.
Richardson immediately responded with a maximum and in due course closed out a 16-darter on double one, moments after narrowly missing double 16 for a 136 checkout.
With scores level at two apiece, Pace's standard began to decimate and Richardson started to dominate, reeling off four legs in succession to round off another unbeaten evening's work.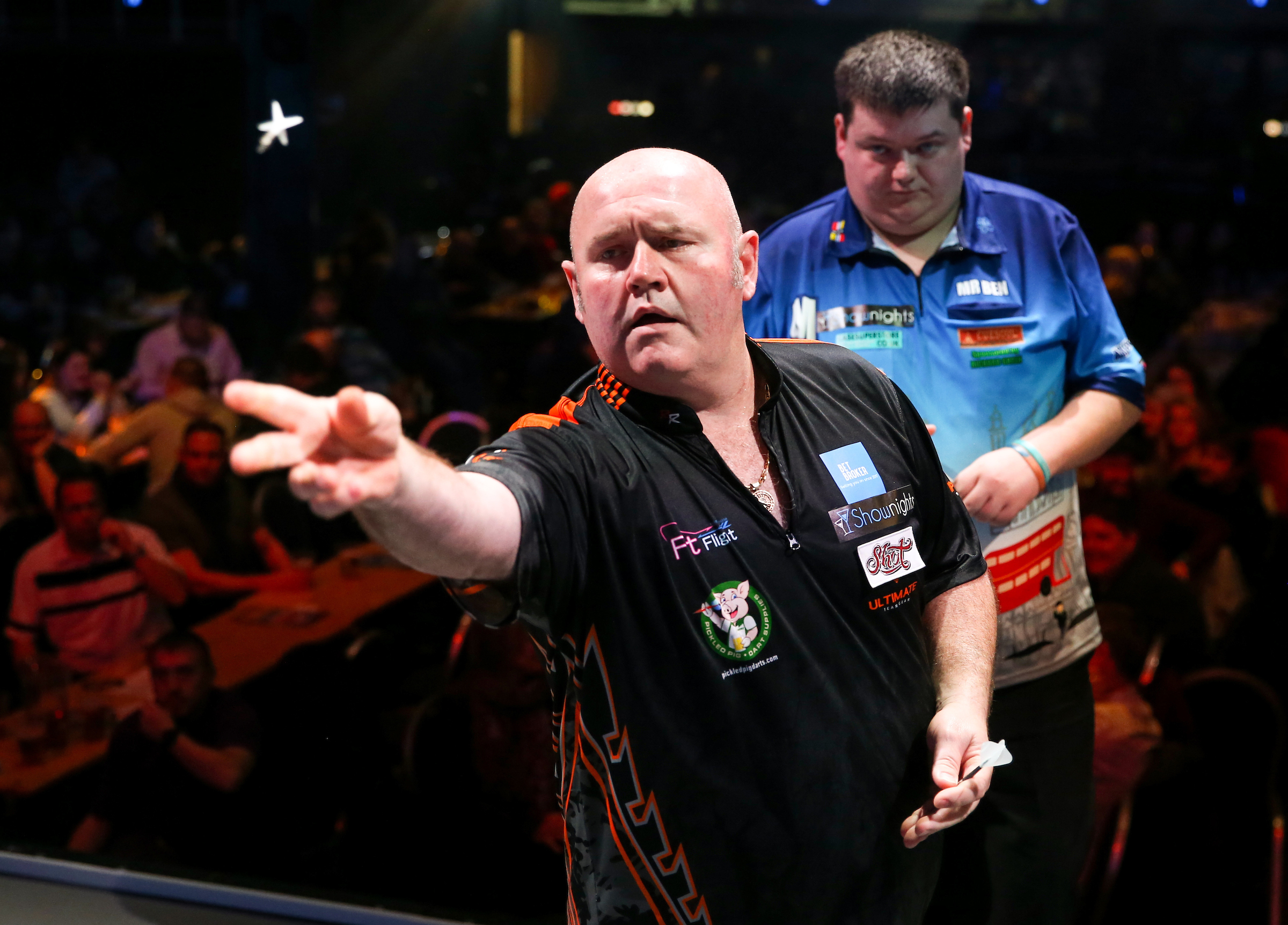 Joe Chaney throwing during January's BDO World Championship (Photography: Chris Sargeant/Tip Top Pics)
Elsewhere, Chaney remains an outsider for Monday's play-offs after scooping two victories on Wednesday evening. The World Trophy quarter-finalist disregarded an opening match defeat at the hands of Richardson to see off both Pace and Tricole.
Chaney stands within touching distance of the all-important top four with one round of fixtures still to be played, and the American faces Richard Veenstra, John O'Shea and Justin Thompson – all of who are situated around him in the current standings.
The former Las Vegas Open champion's last-ditch victory over Tricole spiralled him up to sixth in the table, with the Frenchman now in need of a flawless performance on Thursday evening if he is to stand a chance of progressing.
Tricole will lock horns with Darren Herewini, David Cameron and former World Matchplay champion Larry Butler in a favourable draw in the hope of collecting enough points to prevail.
REMOTE DARTS LEAGUE
---
Night 16
Wednesday June 3
James Richardson 6-3 Joe Chaney
Thibault Tricole 6-1 Stacey Pace
James Richardson 6-3 Thibault Tricole
Joe Chaney 6-2 Stacey Pace
James Richardson 6-2 Stacey Pace
Joe Chaney 6-3 Thibault Tricole
12 matches down, 3 to go and just 4 points separates third from 3rd and 11th place… pic.twitter.com/zDb38f34JW

— Remote Darts League (@RemoteDarts) June 4, 2020
Night 17
Thursday June 4
David Cameron v Larry Butler
Darren Herewini v Thibault Tricole
Darren Herewini v David Cameron
Thibault Tricole v Larry Butler
Thibault Tricole v David Cameron
Larry Butler v Darren Herewini
---
(Featured Image: Naomi Baker/Getty Images)
About The Author
You might be interested in