Russia's Koltsov claims maiden Modus Icons of Darts Phase Three title bringing to an end Adams' dominance
Russian number one Boris Koltsov claimed his maiden Phase Three crown in the Modus Icons of Darts Live League on Wednesday, scuppering Martin Adams' title streak in the process.
Koltsov topped the table for the first time in almost three weeks, after securing a brace of titles during the second phase of the remotely contested innovation.
Whilst competing from his residence in the Russian capital of Moscow with his tremendous army green curtains situated in his backdrop, Koltsov claimed four wins from a possible five to reign victorious.
In his opener, Koltsov locked horns with three-time world champion Adams – who has dominated the Icons of Darts Live League in recent weeks with a scintillating string of performances.
Koltsov raced into a 4-1 lead and was seemingly breezing to the finishing line, though, 64-year-old Adams battled back and forced a decider with two 15-darters, only for the Russian to find double 12 to seal success.
Five out of eight on the doubles and an impressive average of 98.55 in a 5-3 win over David Evans then doubled Koltsov's points tally, before Dave Parletti was subsequently brushed aside.
Icons of Darts Live League event winner Scott Marsh then handed Koltsov his first and only defeat of the afternoon as the Kent-based thrower averaged just short of the 100 mark in a stunning display.
Marsh constructed a 4-1 advantage with checkouts of 104 and 107, and, despite Koltsov pinning two maximums and winning back-to-back legs, the 37-year-old registered a splendid 11-darter in the concluding leg to prevail.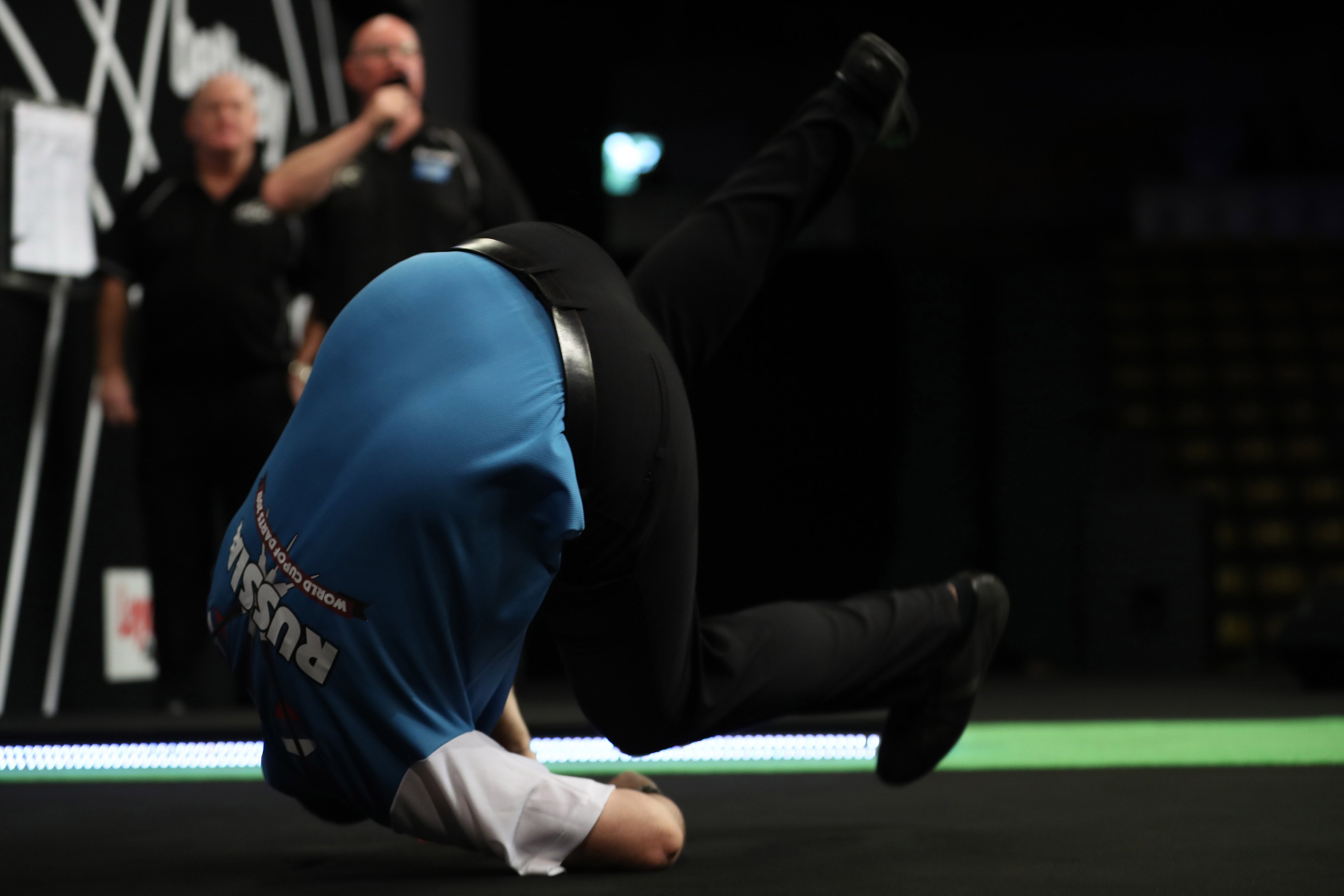 Boris Koltsov celebrating wildly during the World Cup of Darts (Photography: PDC Europe)
'The Viking' immediately returned to winning ways with an average in excess of the 100 mark in thrashing global sensation Fallon Sherrock, executing five of his eight attempts on the outer ring in a doubling masterclass.
Sherrock, who became the first woman to surpass the first round at the World Championship in December, was fresh from a scintillating showing in seeing off eight-time major champion Adams.
The 25-year-old clocked a 71 per cent checkout efficiency, four maximums and a record-breaking 103.14 average – which becomes the highest ever broadcast average to be registered by a female player.
After overcoming Sherrock in his culminating affair, Koltsov was shortly confirmed as Wednesday afternoon's champion following a subsequent defeat for title rival Marsh at the hands of BDO World Championship quarter-finalist Evans.
Phase Three of the Modus Icons of Darts Live League continues on Thursday morning as Tuesday's winner Scott Mitchell returns in the hope of further glory.
MODUS ICONS OF DARTS LIVE LEAGUE PHASE THREE
---
Week Two – Day Three
Wednesday June 17
Boris Koltsov 5-4 Martin Adams
David Evans 3-5 Boris Koltsov
Martin Adams 5-4 David Evans
Dave Parletti 2-5 Boris Koltsov
Scott Marsh 3-5 Martin Adams
Fallon Sherrock 1-5 David Evans
Boris Koltsov 3-5 Scott Marsh
Martin Adams 3-5 Fallon Sherrock
David Evans 5-2 Dave Parletti
Fallon Sherrock 1-5 Boris Koltsov
Dave Parletti 5-2 Martin Adams
Scott Marsh 2-5 David Evans
Dave Parletti 5-2 Fallon Sherrock
Scott Marsh 5-3 Dave Parletti
Fallon Sherrock 2-5 Scott Marsh
League Standings
1. Boris Koltsov P5 W4 L1 DIFF +8 PTS 8
2. David Evans P5 W3 L2 DIFF +7 PTS 6
3. Scott Marsh P5 W3 L2 DIFF +2 PTS 6
4. Dave Parletti P5 W2 L3 DIFF -2 PTS 4
5. Martin Adams P5 W2 L3 DIFF -3 PTS 4
6. Fallon Sherrock P5 W1 L4 DIFF -12 PTS 2
Week Two – Day Four
Thursday June 18
Mark Webster v Scott Mitchell
Paul Nicholson v Mark Webster
Scott Mitchell v Paul Nicholson
Andy Jenkins v Mark Webster
John Brown v Scott Mitchell
Stephen Burton v Paul Nicholson
Mark Webster v John Brown
Scott Mitchell v Stephen Burton
Paul Nicholson v Andy Jenkins
Stephen Burton v Mark Webster
Andy Jenkins v Scott Mitchell
John Brown v Paul Nicholson
Andy Jenkins v Stephen Burton
John Brown v Andy Jenkins
Stephen Burton v John Brown
---
(Photography: Lawrence Lustig/PDC)
About The Author
You might be interested in