Slimline Humphries gains inspiration from Van den Bergh and hopes to be seeded at World Championship
A slimline Luke Humphries has taken inspiration from fellow world youth champion Dimitri Van den Bergh in the hope of being seeded at December's World Championship.
Van den Bergh emphatically overcame Gary Anderson 18-10 to lift the Phil Taylor Trophy at the recent World Matchplay, becoming the first world youth champion to claim a major honour.
Humphries has created history himself this year and became the first Premier League Challenger to win a match, also defeating Anderson before the lockdown period.
Similar to both Michael Smith and Benito van de Pas, the Berkshire star opted to shed some weight during the four-month hiatus and hopes to continue that for the remainder of the year.
"It's been a tough situation for me, I just want to be playing darts, but I've lost a few stone and quite a few people have noticed now," he revealed in an interview with Matthew Kiernan for the Weekly Dartscast.
"I did about 500 miles on an exercise bike and started eating healthily, looked after myself. It's been a good opportunity for us professional darts players to lose a bit of weight.
"A lot of us have done it – it stands me in good stead for these long days we incur on the ProTour. I don't think anything inspired me as such, I was just a bit overweight.
Humphries during his run to a second successive World Championship quarter-final in December (Photography: Lawrence Lustig/PDC)
"Darts players do tend to get overweight eating at the wrong times. There's no certain eating time, you can be losing at 3pm or 7pm after a final. Eating at the wrong times and not healthy meals.
"I decided to eat the right things for a couple of months and I managed to work it really well and lose a bit of weight. I did it for good stamina.
"This isn't just for lockdown, I'm going to keep it up now. It's going to be hard because when you're away on the ProTour you're away from home. But if you stick to it, it's easy to do.
"I'll probably try to lose a couple more stone, I won't be silly and lose too much. Because I've been practising while I've been losing weight, it's not affected my throw."
Humphries returned to competitive action at the PDC Summer Series in early July. The 25-year-old surpassed the first round on only two occasions and therefore failed to qualify for the World Matchplay.
Van den Bergh would reign victorious in Milton Keynes, upsetting the odds and emerging as the first unseeded champion since Peter Evison in 1996.
"Dimitri's win at the Matchplay is a bit of an inspiration," expressed Humphries. "He was never favourite to win it and it shows that anyone can win a huge title like that.
"I've been close a few times especially in the World Championship, only a couple of really good performances have put me out.
"Who knows what would have happened if Michael Smith and Peter Wright hadn't had those great performances against me in those quarter-finals? I could have gone on to the final and then it's anyone's game."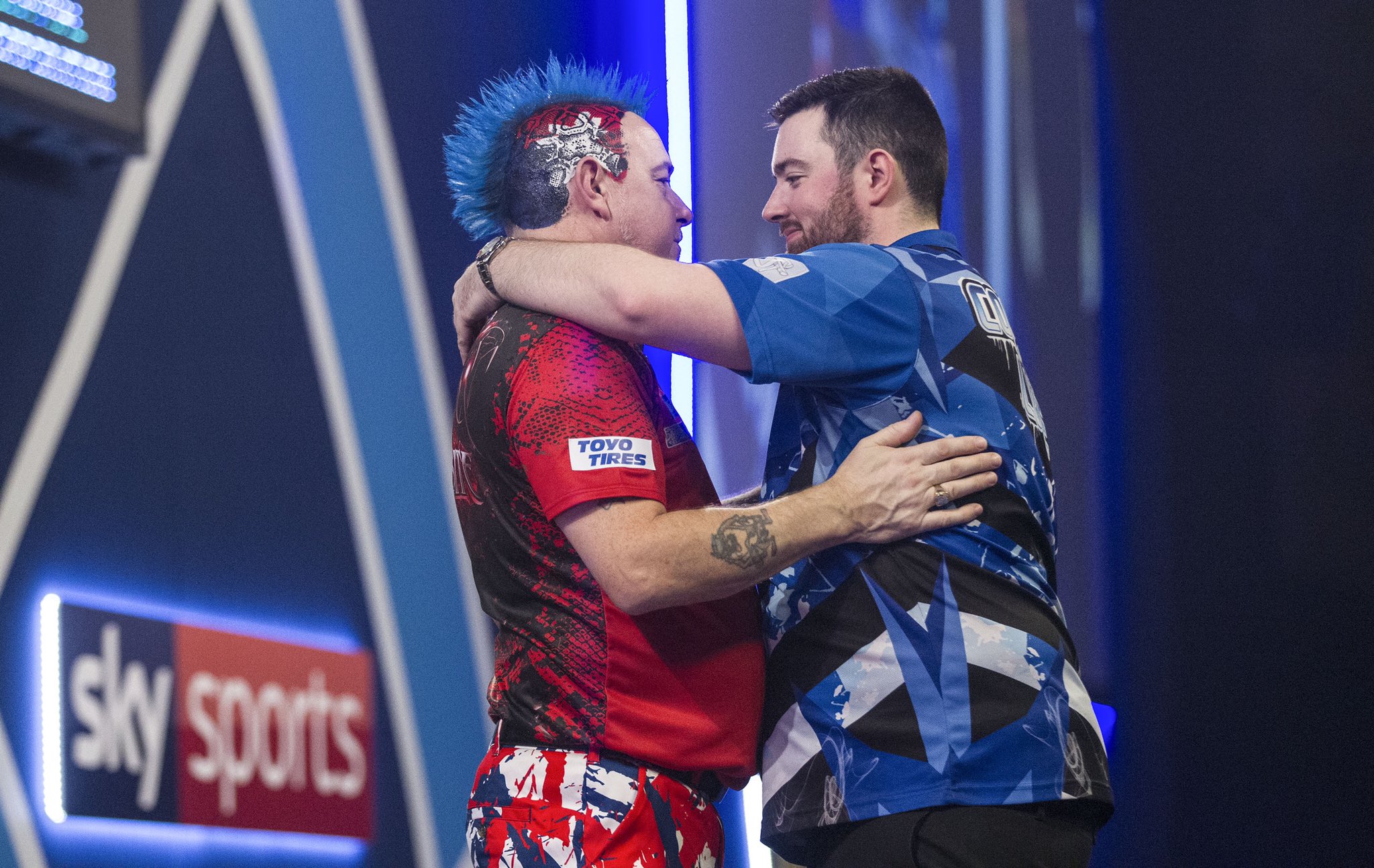 Humphries and Wright following their quarter-final tussle at Alexandra Palace (Photography: Taylor Lanning)
The World Championship at Alexandra Palace has proved a prosperous stomping ground for Humphries, with both of his major quarter-finals arriving on North London soil.
'Cool Hand Luke' has aspirations of being seeded for the first time in the sport's showpiece staging, but he believes those hopes have been slightly hindered by specific decisions regarding the European Tour.
The qualifying criteria for events held on the continent was amended at the turn of last season, with the top two host nation players receiving an invitation based on their place in the PDC Order of Merit.
"It's harsh, I've got a lot to say about it because they are keeping the European Tour going, but people are being invited," Humphries candidly voiced.
"It's effecting me because I want to be seeded for the World Championship, but you've got people like Max Hopp and Gabriel Clemens being invited to events at this moment in time.
"In my personal opinion, we should just be concentrating on getting 30 Players Championship events done and then we can have a fair criteria for the Worlds.
"I respect everything the PDC does, they've worked hard to get where they are. It's too soon in my own opinion, but I'm just going by what they say.
"Hopefully in the Autumn Series I can make an impact. My dream was always to be seeded for the Worlds this year, and it's going to be tough now but I'm really hoping I can do it."
---
(Featured Image: Lawrence Lustig/PDC)
About The Author
You might be interested in