Unibet Premier League – Week 13 Preview & Predictions
With the league phase almost drawing to a close, it's now looking like a four horse race for two play off places, with the top two almost set in stone.
This week's action comes from Birmingham, where Arena Birmingham will play host to the latest round of fixtures.
Here I preview the week 13 matches.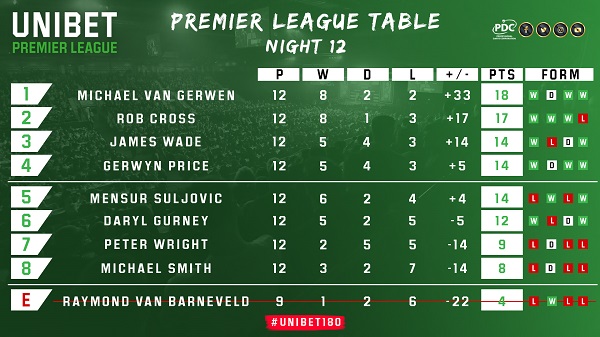 Mensur Suljovic (5th) v Michael Smith (8th)
First up in the Second City are two men with differing agendas. Mensur Suljovic is well in the mix to make it to the O2 Arena, while Michael Smith has endured a season to forget. "Bully Boy" is six points adrift of the top four, and, although it isn't mathematically impossible for him at this stage, he realistically needs to win every remaining game to even stand a chance of qualification.
Premier League Week 12
Mensur just refuses to go away, and steadily overcame Daryl Gurney 8-5 in Cardiff last week. It wasn't the highest of standards, but the two points was the key, and "The Gentle" no only sits outside the coveted top four on leg difference alone.
There was no luck again for Smith in Wales, where despite a 170 checkout and a 99 average, he still slipped to an 8-5 defeat to Gerwyn Price.
German Darts Grand Prix
It was Euro tour action in Munich last weekend.
Suljovic had a decent run to the last eight in Germany, where he was edged out 6-5 by Rob Cross.
Smith endured a miserable trip to Europe, with Ricky Evans handing out a 6-0 hammering at the opening hurdle.
Prediction: Smith is rapidly losing heart in the competition, and it won't help having to play the very deliberate Austrian this week. Suljovic is finding ways to win at the minute, and his ambitions are bigger than Smith's. I expect an 8-4 win for Suljovic. 
Rob Cross (2nd) v Gerwyn Price (4th)
It's a tasty clash between two in form players in match two in the Midlands. Rob Cross will hope to again jockey for the league leadership, while Gerwyn Price will aim to solidify his top four claims.
Premier League Week 12
Cross started well enough in his top of the table clash with Michael van Gerwen last week, but a 2-0 lead quickly evaporated into an 8-2 defeat, losing his league leadership in the process.
Price enjoyed a rare hometown crowd that were firmly on his side in Cardiff, and he picked up a welcome two points with an 8-5 win against basement boy, Michael Smith. He was aided by a 170 checkout, as well as 47% on his doubles.
German Darts Grand Prix
Cross enjoyed a strong showing in Munich, but again ran into Michael van Gerwen in the semi finals. MVG followed up his crushing win over Cross in Cardiff by handing out a 7-1 hammering in Germany.
Price decided against the trip, opting to focus on his top four charge instead.
Prediction: This is a tough one to call, as both are capable of producing bursts of form when needed. This could be a nip and tuck contest, but I favour Cross to squeeze home 8-6.
Daryl Gurney (6th) v Peter Wright (7th)
It' a massive match for Daryl Gurney this week, as he looks to keep pace with the top four. He is two points adrift of the play offs, and anything other than a win will seriously damage his hopes. Peter Wright is a man clambering for some sort of form, and he is well adrift of the pack in the league.
Premier League Week 12
Gurney lost ground on the top four when he suffered a disappointing 8-5 loss to Mensur Suljovic in Cardiff.
Wright's chances of reaching the play offs are slim to none, and he again tinkered with his equipment in Wales, this time using spring loaded darts. A poor 85.48 average, along with 13% on the doubles equated to a heavy 8-2 defeat to James Wade.
German Darts Grand Prix
Gurney's run in Germany ended at the last 16 stage, where Rob Cross came through 6-5 to eliminate the Irishman.
Wright again suffered an early exit, with Ross Smith triumphing 6-4 in the opening round.
Prediction: Gurney knows what's at stake here, but Wright has not much to play for, which could make him a dangerous proposition. I still favour Gurney to take the points here, and I favour Gurney to come through 8-5.
James Wade (3rd) v Michael van Gerwen (1st)
Match of the night sees two men in blistering form meet. James Wade is coming off back to back Players Championship victories, while van Gerwen ruthlessly captured the German Darts Grand Prix last weekend.
Premier League Week 12
Wade is emerging as a real threat to the Title, and backed up his credentials even further by hammering Peter Wright 8-2 in last weeks action.
van Gerwen took his usual place atop the table, beating previous occupant, Rob Cross 8-2. A 107.87 average, and over 66% success on the doubles sent a message to the rest that the Dutchman is firmly back on song.
German Darts Grand Prix
Wade suffered a rare early exit last weekend, when Kym Huybrechts edged him 6-5 in round one.
van Gerwen got back to winning ways, by winning the event in Munich. After coming through a 6-5 tussle with Ted Evetts in the quarters, MVG didn't look back, crushing Rob Cross 7-1, before hammering Simon Whitlock 8-3 to trouser £25,000, and his thirtieth Euro Tour Title.
Prediction: Wade already holds a win over van Gerwen this season, and the prospect of facing the Dutchman won't phase the Aldershot man. Both are in red hot form, but I lean towards van Gerwen to edge an 8-6 win.
About The Author
You might be interested in