Wayne Warren: Becoming world champion has been a nightmare, not a dream
Becoming world champion and claiming one of the sport's showpiece titles is a dream for many, but for reigning champion Wayne Warren it has emerged as a disastrous feat.
After overcoming favourite Jim Williams and lifting the prestigious trophy on January 12, Warren was greeted with a £77,000 cut in prize money.
The Welshman had defeated Australia's Justin Thompson, former PDC World Championship finalist Andy Hamilton and Chris Landman on his way to the semi-finals – where he ousted 2015 winner Scott Mitchell.
Warren's remarkable achievements in becoming the oldest ever first-time world champion were overshadowed by various controversies surrounding the British Darts Organisation, with the lowest winner's prize fund since 1989 being allocated.
"It's everybody's dream to become a world champion, it's been mine since I was a kid," Warren revealed in an interview with Phill Barrs for Red Dragon. "But to have what I've had, it's not real is it? It's a nightmare, not a dream.
"It is [heartbreaking]. I was hoping to get as many exhibitions in as I could. I done some for charity because we've had a lot of floods up this way, and I took the cup and everybody was really loving it. The response I had was tremendous. I'm very, very disappointed, you won't know how disappointed I am."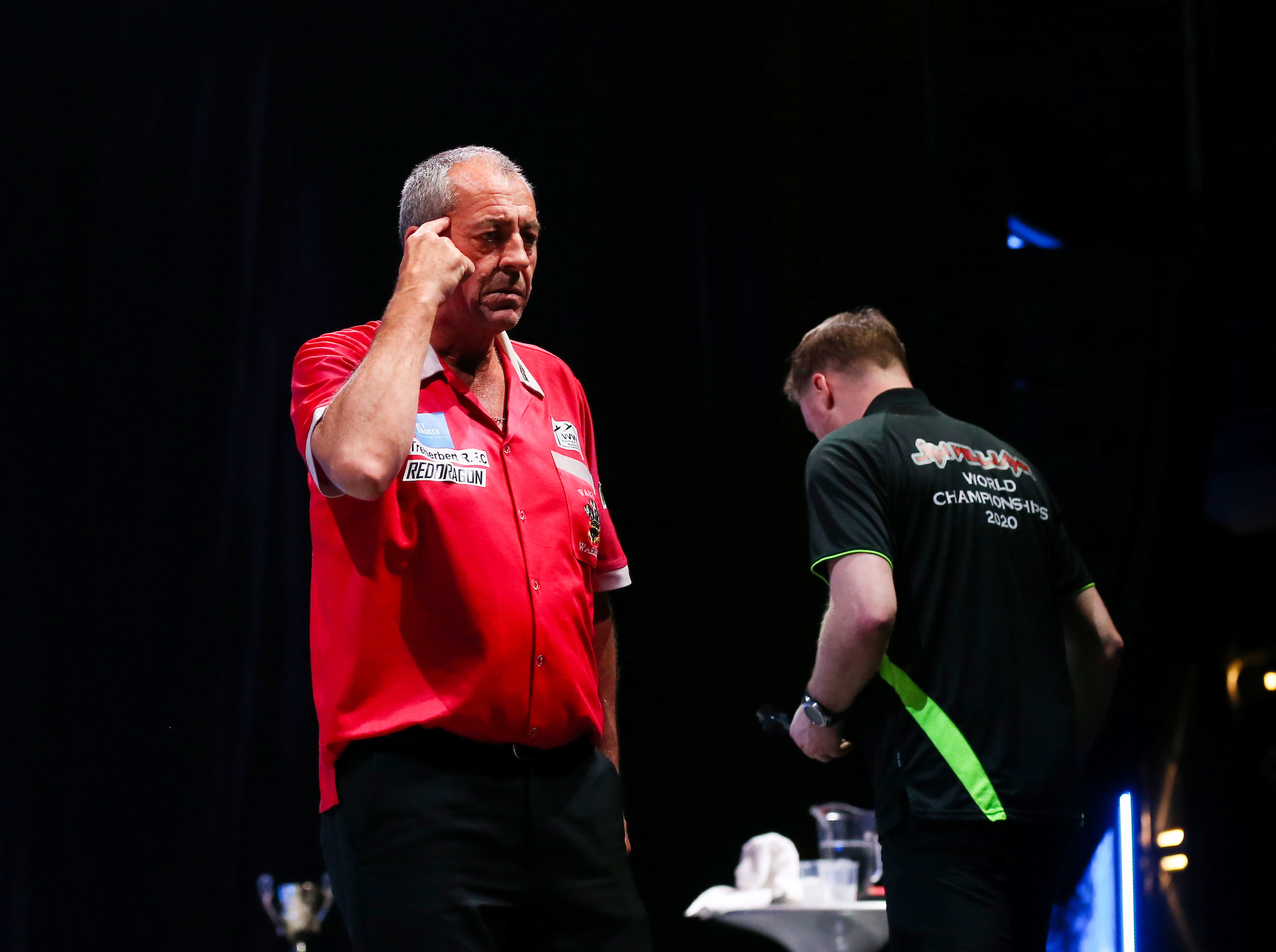 Wayne Warren in action during January's World Championship final (Photography: Chris Sargeant)
Since being crowned world champion, the Welshman has not only had the greatest moment of his career blemished by significantly decreased earnings, but also the opportunity of competing on the exhibition circuit.
"The only thing Des [Jacklin] did a little bit right, get it [the World Championship] to The O2, but what he did after that was…no go," Warren added.
"We knew it definitely wasn't going to be £100,000, but I heard a lot of rumours it would be £50,000 or £60,000. When I had that email I couldn't believe it, £23,000 – it's a hell of a cut.
"£77,000 cut, it would have been life-changing for me at my age. What was going to come with it as well, the exhibitions and so forth, and then we had this coronavirus on top of it.
"You can ask the rest of the professionals, they've been so sympathetic towards me, I've had loads of texts of them. I can't change anything now, it is what it is, and I've just got to kick on when it all starts up again.
"I did have a good start to this year, I won a tournament in Romania and Slovakia, a semi-final in the Dutch Open, so I had a great start after winning this cup."
After a detrimental period as chairman, Jacklin announced his resignation in late March, only to be re-elected into the hot seat by the counties a mere few weeks later.
Warren has labelled the latest ongoings within the BDO system as calamitous, and opted to compete on the World Darts Federation circuit for the foreseeable future.
"It's a joke isn't it? It's a joke. It's a calamity, to be honest. The BDO's gone, there'll be no more BDO, as far as I'm concerned.
"That don't interest me any more. I'll be with the WDF tournaments now, we'll take it one step at a time, but BDO is a nil for me now."
Wayne Warren taking aim during the World Championship (Photography: Chris Sargeant)
Following his victorious World Championship campaign, Warren was listed amongst the entrants for PDC Qualifying School, but didn't appear in Wigan with his head being scrambled after recent weeks.
Warren, who turns 58 later this month, has suggested that he may well stroll through the gates of the Robin Park Leisure Centre if the gruelling, four-day long event goes ahead as planned.
"I think I will be yeah, I'll be another year older," he stated. "I was entered last year, but when I had that email, the pressure was going to be on me and my head wasn't right. I've got the game to have a tour card."
---
(Featured Image: Chris Sargeant/Tip Top Pics)
About The Author
You might be interested in