Williams claims maiden Challenge Tour title as Evans doubles up and Ellis nails nine-darter
Jim Williams claimed his maiden PDC Challenge Tour title as David Evans completed the double on Saturday afternoon at the Barnsley Metrodome.
Williams, a BDO World Championship runner-up in January, unsuccessfully attended Qualifying School for a second time earlier this year, but now reigns victorious for the first time on the professional scene.
The reigning World Trophy champion defeated Rachel Brooks, Ross Twell and Colin Osborne to the loss of a mere three legs, before recovering from 4-2 behind to overcome Graham Usher.
Welshman Williams converted impressive checkouts of 101 and 124 to defeat Usher, prior to booking his place in the quarter-finals with a comprehensive 5-2 victory over former world champion Richie Burnett.
The 36-year-old would then beat Tony Newell by the same scoreline, before surviving match darts in a thrilling affair against another former world champion in Scott Mitchell.
Williams saved his most scintillating stuff of the afternoon for the final as he recorded an impressive 100.5 average in convincingly denying his namesake Lewy Williams.
It was a tremendous string of showings from 18-year-old Williams who backed up his UK Open exploits with a superb run to his maiden Challenge Tour final.
After clocking a blistering 117 average as the Challenge Tour returned on Friday afternoon, Williams saw off the likes of Mark Walsh, Chris Quantock and Dutchman Maikel Verberk.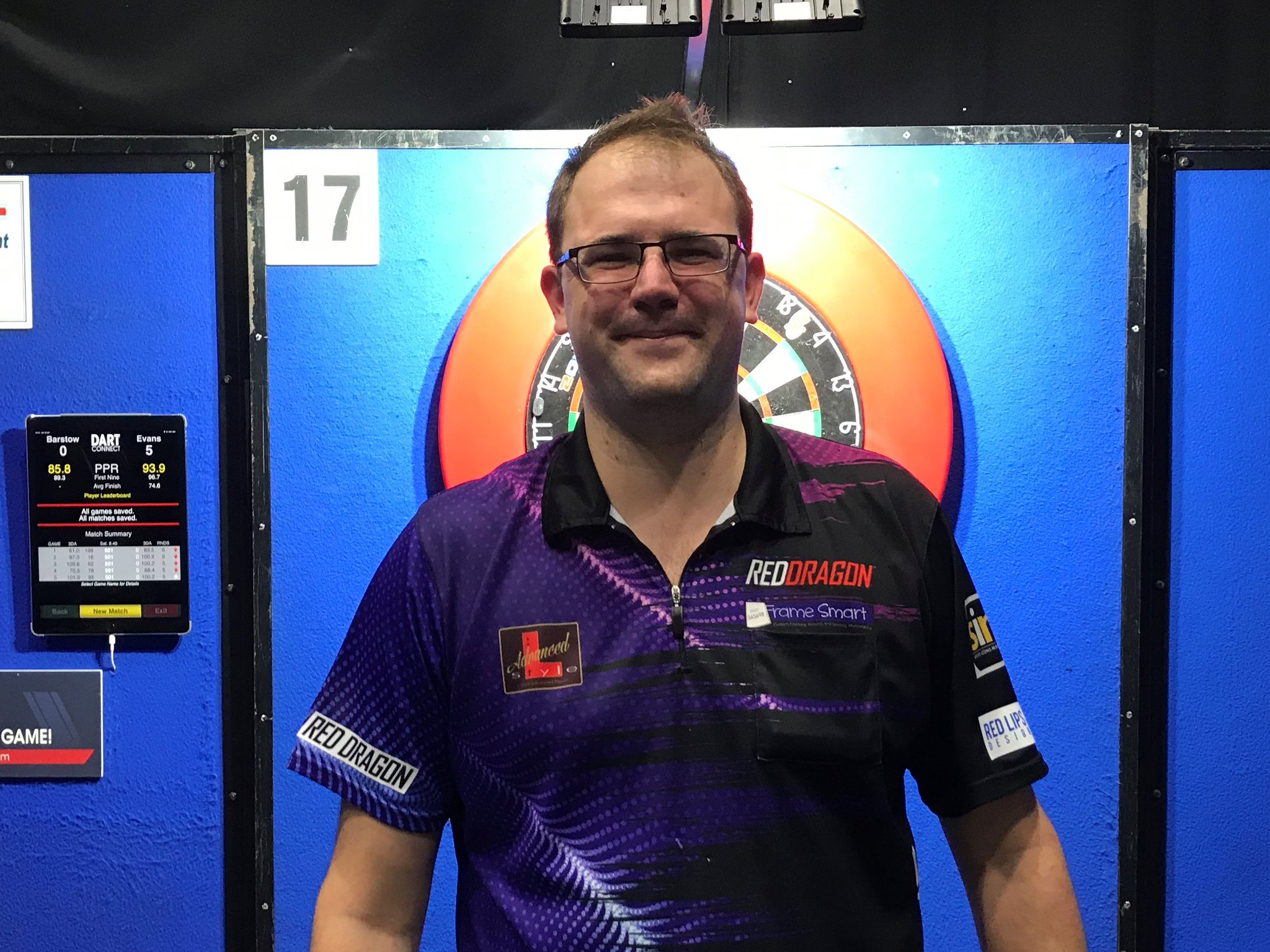 Afterwards, BDO World Championship quarter-finalist Evans doubled his title tally for the weekend as he became the first player to win multiple Challenge Tour crowns this season.
Evans bizarrely enjoyed four successive 5-2 victories leading up to the fifth round, overcoming Michael Rasztovits, Jason Askew, Ben Hazel and Dave Prins by the same respectable scoreline.
The 30-year-old converted two ton-plus checkouts and a fabulous 101.7 average in seeing off Hazel in the third round, before thrashing both Deta Hedman and Rusty-Jake Rodriguez to reach the semi-finals.
Evans would subsequently register a remarkable 12-darter in the deciding leg against Nathan Rafferty, prior to pinning finishes of 117 and 110 in a whitewash win over Chas Barstow to seal his third Challenge Tour triumph.
The Manchester man now tops the Order of Merit heading into Sunday's all-important double-header, and currently has both a professional tour card and a World Championship spot within his grasp.
Elsewhere, female darting legend Hedman reached the last 16 of Event Eight, embarking on her deepest run on her sixth Challenge Tour appearance.
The two-time women's world master claimed the scalps of Osborne, Kevin Painter and New Zealand's Cody Harris across an outstanding string of performances.
Following her run to the quarter-finals on Friday afternoon, Fallon Sherrock failed to surpass the last 32, missing out at the hands of Evans and Scott Marsh respectively.
The relatively unknown Robbie Ellis has won just two matches across the weekend thus far, but completed his first competitive nine-darter in fantastic fashion.
The 31-year-old from Norwich achieved the feat in his first round victory over Peter Mitchell in Event Eight, though, he eventually suffered defeat in the proceeding round at the hands of Rodriguez.
The 2020 PDC Challenge Tour reaches its climax on Sunday in Barnsley, with two professional tour cards and a World Championship ticket being dished out.
PDC CHALLENGE TOUR
---
Saturday October 10
Barnsley Metrodome
Event Seven
Last 16
Chris Quantock 5-2 John O'Shea
Lewy Williams 5-4 Maikel Verberk
Jamie Clark 5-2 David Evans
Mark Walsh 5-1 Robert Collins
Lewis Pride 5-3 Keane Barry
Scott Mitchell 5-4 Niall Culleton
Tony Newell 5-3 Ian Jopling
Jim Williams 5-2 Richie Burnett
Quarter-Finals
Lewy Williams 5-2 Chris Quantock
Mark Walsh 5-3 Jamie Clark
Scott Mitchell 5-2 Lewis Pride
Jim Williams 5-2 Tony Newell
Semi-Finals
Lewy Williams 5-2 Mark Walsh
Jim Williams 5-4 Scott Mitchell
Final
Jim Williams 5-2 Lewy Williams
Click here for full results from Event Seven via the DartConnect system
Event Eight
Last 16
Chas Barstow 5-0 Adam Huckvale
Keane Barry 5-2 Jamie Robinson
Christopher Bent 5-4 Diogo Portela
Matthew Dennant 5-4 Kevin Burness
Nathan Rafferty 5-1 Ryan Hogarth
Adrian Devine 5-2 Jake Jones
Rusty-Jake Rodriguez 5-1 Brian Raman
David Evans 5-1 Deta Hedman
Quarter-Finals
Chas Barstow 5-3 Keane Barry
Christopher Bent 5-1 Matthew Dennant
Nathan Rafferty 5-0 Adrian Devine
David Evans 5-1 Rusty-Jake Rodriguez
Semi-Finals
Chas Barstow 5-4 Christopher Bent
David Evans 5-4 Nathan Rafferty
Final
David Evans 5-0 Chas Barstow
Click here for full results from Event Eight via the DartConnect system
---
(Featured Image: Chris Sargeant/Tip Top Pics)
About The Author
You might be interested in